To the provider:
Bon-kredit.de
Bon Credit Alternative 1: Smava* - More choice of banks, sometimes better conditions, no loans possible without Schufa.
Bon Credit Alternative 2: Maxda* - Comparable offer to Bon-Kredit. Inquiry useful for comparison purposes.
Is Bon-Kredit a rip-off? Bon-Kredit is a reputable credit broker and as a Swiss provider has a good connection to Swiss loans without Schufa. However, the protection of the loan without a guarantee of credit are unserious and often does not serve the customer. In my opinion, an inquiry at Bon-Kredit is worthwhile but alone for comparison purposes. In addition, the request is completely free and does not affect the lending at other banks. However, you should not take out insurance for the loan and you should also refrain from using an additional credit card so that your financial situation does not get into trouble.
Bon-Kredit is a German/Swiss credit broker. Bon-Kredit advertises with Loans without upfront costs and thereby addresses persons with bad credit or one negative entry in the Schufa or a similar credit agency. The credit intermediary specifically solicits the favor of people who have already been rejected by the house bank.
Through a variety of partnerships with banks and other credit intermediaries, Bon-Kredit can provide a credit comparison and locate lenders who offer favorable terms in difficult credit cases offer. But before you get involved with the provider, you need to be sure if Bon credit ripoff is or is not. After all, you don't want the loan to turn into a financial fiasco.
This article gives an insight into the world of Bon-Kredit, sheds light on the seriousness of the credit broker and takes a look at the advantages and disadvantages associated with Bon-Kredit.
loan amount
100€ - 300.000€
credit term
12 months to 120 months
Representative effective interest rate
8.3 % (depending on creditworthiness: 2.79% - 15.99%)
Credit possible without Schufa query?
✔️ (free mediation via Sigma Bank)
Credit for free use
✔️
Suspension of credit installments
❌
Free unscheduled repayment
❌ (however, full repayment is possible without early repayment penalty)
credit insurance
✔️ (Attention, read fine print!)
Name and address of the bank

Master Media Group AG
Haldenstrasse 15
8266 Steckborn
Switzerland
Bank phone number
Tel: +49 (0)800-7244501
Summary: Is Bon-Kredit a rip-off or not?
Often Bon-Kredit is unfairly labeled as a rip-off, because some people do not understand that with a poor credit rating and negative Schufa entries, no guarantees can be made when granting loans and then fire bad reviews into the Internet.
Nevertheless, Bon-Kredit undoubtedly has its downsides as well. The most serious point, which makes Bon-Kredit look like a bit of a rip-off, is the fact that it tries to Credit insurance for salewhich you would have to pay even if no loan is granted. What else speaks for and against Bon-Kredit as a rip-off:
Is Bon-Kredit a rip-off? What speaks against it
For over 50 years successful active on the market and over 300,000 satisfied customers
Very good ratings on Trustpilot, eKomi and financial flow
There are no upfront costs for credit inquiries
In case of problems you can contact a Contact person personally to disposal
bon credit is often badmouthedif the credit request fails, there is no guarantee of mediation.
You do not have to accept the credit offer, but you can Reject at any time free of charge
Is Bon-Kredit a rip-off? What speaks for it
One will be through an additional Credit card tempted
Aggressive marketing of an additional credit insurance, which does not guarantee lending.
bon credit advises against using other providers to be requested
You can use the credit offer not freely select
the Interest rates are comparatively highHowever, this can be explained by the often poor creditworthiness of the loan applicants.
Conclusion: An inquiry at Bon-Kredit is worthwhile for comparison purposes alone and is free of charge without any ifs and buts. However, you should not take out insurance for the loan and you should also refrain from using an additional credit card so that your financial situation does not get into trouble.
Is Bon-Kredit a rip-off or not?
First of all, you need to know that Bon-Kredit often has to reject people if their credit rating does not allow them to get a loan. What is the first thing these people do? Right, they go to the usual rating portals and insult Bon-Kredit as a rip-off. These ratings do not always have substance and are not justified.
After all, Bon-Kredit has been brokering loans for more than 50 years and has already more than 300,000 people to credit helped. Wouldn't the legislator have put a stop to an obvious rip-off long ago? I am very sure that this would have happened.
The credit inquiry with Bon-Kredit takes place thereby entirely without upfront costs. So you don't have much to lose by asking Bon-Kredit for credit. Nevertheless, there are some points that could make Bon-Kredit look like a "rip-off" and that you should at least be aware of:
1. bon-credit imposed on me an additional credit card to the loan
In the credit application from Bon-Kredit, an additional Credit card advertised. You could also say that it is downright forced on you. Even though the credit card offers a certain added value due to the additional credit line, I find that the intrusive design of the form Bon credit somewhat unserious the credit card. To decline the credit card, you have to click on the gray, hard-to-read text below the big green button. The disadvantage of the credit card is that interest in the range of 15 % is payable on the sales.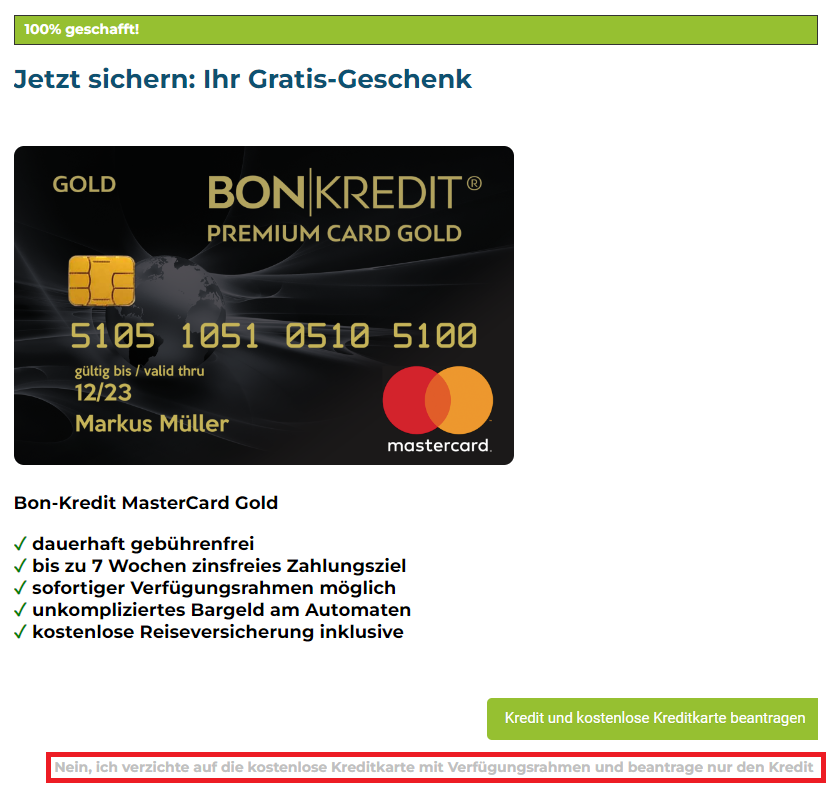 2. in addition, Bon-Kredit uses "scare tactics" to sell protection
When I took out the loan, I received the following warning notice: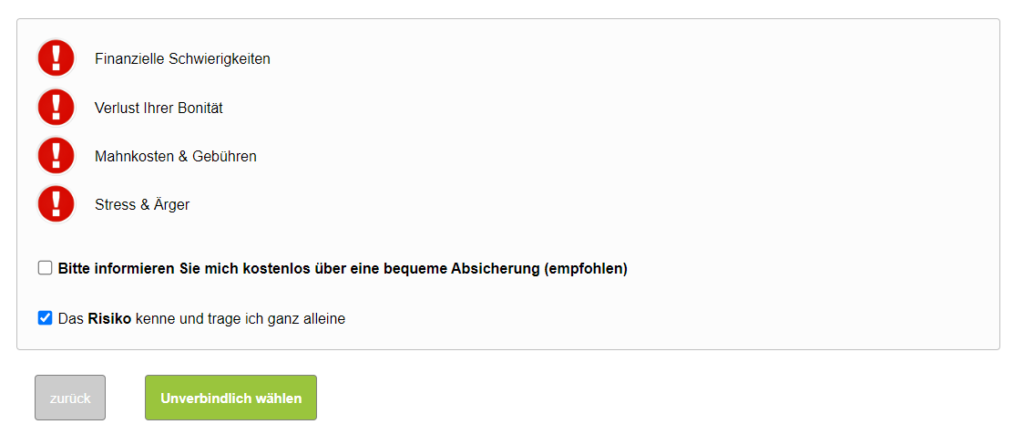 If you select "Please inform me", you will receive further information about credit insurance. The aim here is to sell such insurance, as this brings in good commissions. Credit insurance often has two major risks, which Bon-Kredit does not point out here:
Some claims are not covered by insurance, so you are still on your own
The conclusion of the insurance is not linked to the conclusion of the loan. They are two different contracts that have nothing to do with each other. This entails the risk of taking out insurance without obtaining a loan. Bon-Kredit absolutely has to make improvements here so as not to look like a rip-off.
3. funny warning that I should refrain from alternative offers.
After submitting the Bon-Kredit application form, I received a warning that I should not inquire with other credit providers before receiving feedback from Bon-Kredit. This is to protect my score and avoid "irritations".
This is merely an attempt at intimidation that should be ignored. If you request loans from other credit providers in parallel, your Schufa score will not be affected, as the bank is obliged to make a neutral request for terms and conditions. There are no irritations or similar.
In fact, obtaining multiple loan quotes via, for example. Smava* the best tactics to get good credit offers.
4. you cannot select the credit offer
Bon-Kredit only sends you a specific credit offer. This means that you cannot check for yourself whether another loan offer would have appealed to you more. Smava, on the other hand, sends you all the credit offers that the provider has found. Thus you have with Smava* a better way to compare the conditions. Whether you ultimately accept the loan offer from Bon-Kredit, however, is up to you.
5. bon credit has above-average interest rates
Bon-Kredit often arranges loans with interest rates of more than 8 percent. That is three to four percentage points more than with other providers. However other banks offering loans despite Schufa entry at a similar interest rate level, as loans are always more expensive despite Schufa entry.
How does the credit mediation process work at Bon-Kredit?
Credit mediation at Bon-Kredit proceeds as follows:
credit requestFirst of all, you send your credit request to online to Bon-Kredit* and enter your personal data and your e-mail address. In addition, you specify the desired loan amount and upload your proof of income.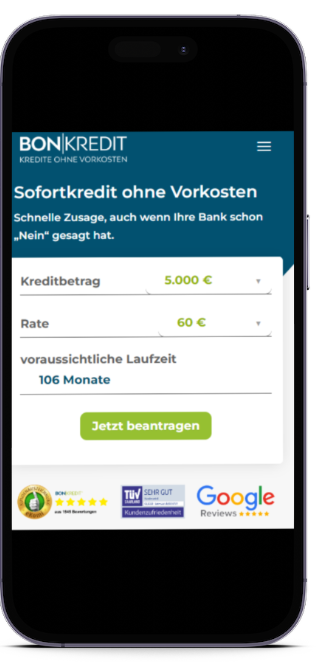 Credit OfferWithin a few hours, you will receive a suitable loan offer from Bon-Kredit or its partner Boncred. This offer contains the exact conditions of the loan, such as interest rate, term and monthly installments.
Approval of the offer: If you agree with the terms of the credit offer, you can accept it and send it to Boncred together with a copy of your ID card, bank statement and current pay slip. After your documents have been checked, the payout directly by the partner bank.
What are the requirements for Bon-Kredit?
Anyone who wants to apply for a loan from Bon-Kredit must meet a few requirements:
You must have at least 18 years old be.
You have to keep your constant Residence in Germany to have.
You must have a regular Income of at least 1,300 euros have. You must provide current proof of income, such as salary slips (for employees), pension statements (for pensioners) or business evaluations (for self-employed persons).
1TP7Extract from which the last salary can be seen. The bank statement must show the name of the bank, the account number, the account holder and the salary posting.
identity card (Copy front and back sides onto one page)
Bank card (Copy front and back sides onto one page)
Through the variety of conditions you can see that Bon-Credit serious works and is not a rip-off. Loans, on the other hand, that are granted without preconditions are rip-off offers. Because not a single lender, lends a four or five-digit amount of money without having checked the creditworthiness of the customer. If such a claim is made, it is about a rip-off scheme such as data collection or the sale of insurance.
In addition, Bon-Kredit does not require any other specific documents such as the vehicle registration document if, for example, you have a Buy car in installments would like. You get the Car loan so without vehicle registration.
Is Bon-Kredit a rip-off or a reputable provider?
Basically Bon-Kredit mediates serious loans to German customers with negative Schufa entries. These are mostly loans from the Sigma-Kreditbank* from Liechtenstein. Bon-Kredit is a credit broker of Master Media Group AG in the Swiss town of Steckborn. The German subsidiary BonCred GmbH in turn brokers loans without Schufa to German customers.
The following points speak for Bon-Kredit as a reputable provider
More than 50 years experience in credit brokering to persons with poor credit standing
More than 300,000 satisfied customers
Very good ratings on Trustpilot, eKomi and financial flow
Demonstrably fall no upfront costs at
You have a personal contact personwhich you can call if you have any questions or problems with the loan.
When you receive a credit offer, you can Reject without consequences
Is Bon-Kredit a rip-off? These points speak against "Bon
You get only a credit offer, and do not have a choice of several banks. At Smava* the selection is significantly better.
the Interest rates are high for credit-free loans (see comparison below)
Upon completion of the loan you will receive annoying credit card advertising on top (→ therefore no Boncred credit card lock)
Some customers received a Credit insurance, but still no credit (→ therefore the credit Without fuse request)
The most serious point, which makes Bon-Kredit look like a bit of a rip-off, is the fact that it tries to Credit insurance for salewhich you would have to pay even if no credit is granted.
Bon-Kredit has higher interest rates: Rip-off Bon-Kredit is therefore not
The interest rates are significantly higher for loans without Schufa than for normal loans from the house bank. In the following chart you can see the difference (Source: BundesbankSigma Kreditbank). Some people call the higher interest rates on credit without credit history a rip-off, but with negative Schufa records there is hardly any other way to get a loan.
Other banks wave off bad Schufa records directly. At Bon-Kredit, you often still get a loan at slightly higher interest rates. Therefore, Bon-Kredit is not a rip-off.
Bottom line: so what should you do?
In my opinion, an inquiry with Bon-Kredit is worthwhile alone to For comparison purposes. Especially with negative Schuf entries is the choice of Banks that grant loans despite the entry awarded small. In addition, the request is completely free of charge and does not affect lending at other banks. However, you should not take out insurance for the loan and you should also refrain from using an additional credit card, to keep your financial situation from getting out of hand.
Frequently asked questions about Bon-Kredit
Does Bon Kredit have an easily accessible customer service?
Yes, Bon Kredit has an easily accessible customer service.
Bon-Kredit's toll-free number: 0800-7244501.
E-mail: info@bon-kredit.de
Facebook: www.facebook.com/bonkredit.de
WhatsApp: 01523 615 06 28
What are other customers' experiences with Bon Kredit?
Bon-Kredit has good to very good ratings on Trustpilot, eKomi and financial flow. Occasionally there are also negative voices. Often from people who have not received a loan. However, the handling of the insurance is also rightly criticized. If you take out insurance through Bon-Kredit, your loan may be rejected and you may be stuck with the costs of the (now completely unnecessary) insurance.
How much additional cost can borrowers expect with Bon Kredit?
There are no additional costs for borrowers unless you take out insurance.
Bon-Kredit does charge a broker commission for its services, but this is offset against the interest rate. Example: Inquiry at the Sigma-Kreditbank* Direct: 14 % interest. Request via Bon-Kredit: 11% interest + 3% commission = 14 % effective interest. So there are no additional costs for the customer and therefore it is not a "rip-off".
Is there a fee for the credit application with Bon Kredit?
No, there is no fee for applying for a loan with Bon Kredit. Interest and fees only accrue when a loan is concluded.
How long does it usually take for Bon Kredit to be ready to sign a loan agreement?
The first check usually takes only a few minutes, but it is conditional. Within 24 hours you will receive an answer by mail whether you can get a loan agreement through Bon-Kredit. After you have Credit agreement signed returned to Bon-Kredit, the payout will take about 3-4 business days.
We are sorry that this post was not useful for you!
Let us improve this post!
Tell us how we can improve this post?