There are only a few providers who do not carry out a credit check with the Schufa when concluding a car subscription. Car subscription providers who offer a car subscription despite a negative Schufa entry usually require other proof. Examples of other evidence are a sufficient income, a guarantor or one additional Deposit. With many providers, however, customers with a negative Schufa entry are generally rejected. In this article we will show you the 5 best providers for long-term car rental (almost) without a credit check. If you want to take out a car subscription without Schufa or despite a negative Schufa, you've come to the right place.
Which providers offer a car subscription without Schufa information or despite a Schufa entry?
Most car subscription providers will get one Schufa information a. The aim of the provider is to ensure the ability of the customer to pay. However, there are some providers for whom a negative entry at the Schufa is an immediate exclusion criterion. A few also advertise that they completely do without a Schufa information and a Car subscription without Schufa to offer.
Here we show you the 5 best providers for car subscription models without Schufa.
1. Finn.auto – Auto subscription despite negative credit bureau
Finn is our recommendation for a car subscription with a bad Schufa score. Here you can get a cheap car for less than €300 including maintenance, repairs, insurance, taxes and even free vehicle replacement in the event of accident damage. Everything is included in this offer, except for refuelling. Many customers receive a long-term car rental here with a weakened credit check.
At Finn.Auto, a negative Schufa entry is not a direct reason for a rejection. The provider offers customers with poor creditworthiness a vehicle subscription. When renting, Finn requires a deposit of 3 monthly installments. Finn's subscription model stands between drivers 20 and 75 years open minded. If you are under the age of 23, you are considered a young driver at Finn.Auto. The choice of vehicles is then limited to a maximum output of 150 kW (203 hp). The only other requirement is a German registration address.
Finn car* features high-end vehicles such as BMW 5 Series Touring, Volvo XC 90, Polestar 2 or the BMW X3, which start at around 600 euros. Finn.Auto also offers various cheap cars for customers with poor credit ratings and negative Schufa entries. These include, for example, the Dacia, Spring, Fiat 500 or the Opel Crossland. Customers with a negative credit bureau can rent a car from Finn.Auto for around 250 euros per month. Possible terms begin at 12 months. Longer rentals are also possible.
If you are looking for a car subscription despite a negative Schufa entry, you should look at the provider Finn.car* definitely have a look. There are always new offers coming out city runabout until SUV or sports car pass. Even if the Car long-term rental without credit check is not possible at Finn, people with poor credit ratings still have a realistic chance of getting a car here.
Finn has one of the cheapest car subscriptions with which frequent and infrequent drivers save equally
Compared to other offerings, Finn has a very flexible offer: This way you can set how much you want to drive from several kilometer packages. Other providers have rigid mileage limits that really count when you exceed them. For example, Finn only charges 17 cents per additional kilometer for the Skoda Scala, while Navigofleet charges 40 cents per additional kilometer for the smaller Skoda Fabia. But even people who drive little travel cheaply with the car subscription from Finn: You can only book 1000 KM a month with Finn and do not have to pay 3000 KM, as is the case with some other providers. All in all, both frequent and infrequent drivers save with the flexible offers of the provider.
Desired location delivery free of charge
Another advantage of Finn is the free delivery service of the car. For the delivery of the car to your desired location Finn* no fees.
A few words about Finn – Car subscription despite negative credit bureau in all price ranges
The company was founded in Munich in 2019. The start-up promises that car subscriptions will be processed particularly easily. For this, Finn works with delivery partners who insurance and the report together with the return of the car. One Delivery to your doorstep is possible throughout Germany, with the exception of the islands. Another special feature is that FINN den CO2 Output of car use via the Abo Duration away compensated, in which it donates to appropriate organizations. If you want to take a closer look at Finn.Auto's car subscription, you can go directly to the seller here*.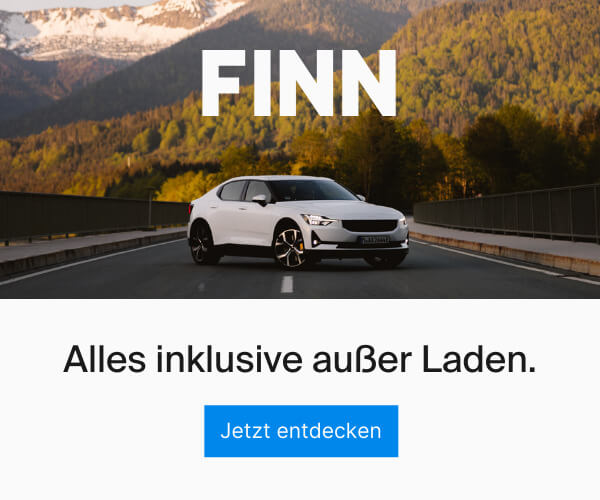 2. VW car subscription
It is similar with VW car subscription. A negative Schufa entry does not automatically mean a rejection. Instead, an attempt is made to find a solution.
This car subscription is an offer from VW Financial Services* (VW FS Auto Abo). Therefore, this provider offers only selected cars of the brands VW, Seat and Skoda at. Among other things, the electric car ID.3 and the VW buses Multivan and Caravelle are also offered. However, you usually get no new car but a used car. If this is younger than 18 months, a surcharge is due. Unfortunately, you cannot select your desired model with the VW car subscription. Instead, it is only possible one vehicle class to choose. The exact one vehicle type within the vehicle class not selected will.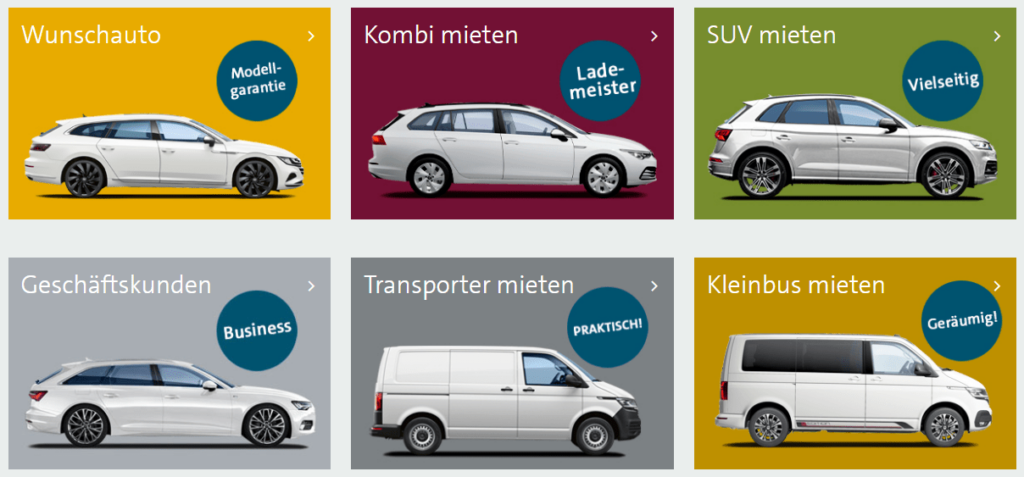 The subscription offers start at around €400 for the micro subscription (e.g. VW Up). A station wagon (vehicle class Family Space) costs around €580 per month. A VW bus is again significantly more expensive and starts at €1200 per month. To three months minimum term the subscription can be canceled on a monthly basis. The ID 3 electric car can also be leased from €500.
Even if the Car long-term rental without credit check is not possible at VW, people with poor credit ratings still have a realistic chance of getting a car here.
3. Faren
The provider Faren also does not automatically exclude customers because of a negative Schufa entry. Instead, Faaren uses its own criteria as the basis for deciding whether or not the car subscription comes about despite the Schufa entry. Donnoch is one Long-term car rental without a credit check is also not possible here.
In contrast to the first two providers, Faaren is only one platform, where car dealerships and dealers market their subscription models. Therefore, you are not a direct customer at Faaren. Instead, you conclude a subscription contract with the respective car dealer. It's like an ebayTM for car subscriptions.
The providers have extensive freedom in designing the car subscription offer. Therefore, the conditions such as new or used cars, term and contract terms can vary depending on the partner vary significantly. The start-up Faaren was founded in 2018 in Würzburg by students of an e-commerce course.
The currently cheapest offer from Faaren is not a car, but a Vespa scooter. This starts at €170. The cheapest subscription car is a Dacia Spring for around €250, followed by a Renault Zoe electric car for €300. A Tesla model is available from €1080. At the upper end of the price scale are, for example, an Aston Martin DBX or a McLaren GT for €4,500 a month. Of course, these high-priced cars are not recommended for negative credit bureau. Here you should always look around at the cheaper models.
Car subscription with a short notice period of just 3 months. However, the tariffs at Navigofleet are too rigid and therefore usually end up being significantly more expensive than at Navigofleet Finn*.
Navigofleet actively advertises that no Schufa information is requested. The car subscription model at Navigofleet lasts 12 months or longer and is advertised by the provider as a long-term rental. Navigofleet has existed for more than 15 years. The company describes itself as a mobility service provider and is based in Maintal in Hesse.
The provider revised its aging website. It is now much more navigable than before. The special feature of the car subscription at Navigofleet is the short notice period of only 3 months. In contrast to Finn* the kilometers are not flexibly adjustable. If you drive less than 3,000 km a month, you won't get a cheaper rate here than with Finn. In addition, the additional kilometers at Navigofleet are significantly more expensive than at Finn. Navigofleet charges 40 cents per additional kilometer for the Skoda Fabia, while Finn only charges 17 cents for the larger Skoda Scala. In addition, Navigofleet offers in contrast to Finn* no free delivery to desired location.
5.Saxonia CARS & FINANCE – Car subscription without Schufa from Dresden
Saxonia CARS & FINANCE Dresden GmbH has been on the market since 2008. The entrepreneur is a service provider in the field of leasing and rental as well as financing. Saxonia is particularly active in arranging car subscriptions for used vehicles for people with a negative credit bureau. In addition, Saxonia also offers vehicles in the high-price segment in a subscription model.
With the "Wish Vehicle Subscription" From the provider you will receive an offer for a car subscription for your vehicle. That Car dealership finances the car and takes care of the service. You only have to pay the monthly rate. The car subscription models at Saxonia start from a term of 3 months and can also be used if you have a bad credit rating.
Auto subscription without Schufa: Where you have no chance of a subscription contract without a flawless Schufa
In the previous section you got to know 5 providers who offer you a car subscription despite a negative Schufa note. You might want to research other subscription providers yourself. You should know that many major providers of car subscriptions have a negative Schufa score exclusion criterion is. Examples of providers where you don't stand a chance with a negative entry at the Schufa are:
1.Care by Volvo
Care by Volvo is a high-priced car subscription. The provider excludes an allocation to persons with poor creditworthiness
You can order your Care by Volvo car online or via the app. The special thing about this is that you can configure the car yourself. With this you can create a vehicle according to your wishes and have a comparable as when buying a new car. However, the waiting time for self-configured cars is several months. As expected, the prices are quite high compared to other car subscription providers. You can only get the cheapest car from €659: the electric compact SUV XC40 Recharge Pro. There is no minimum term at Volvo. In addition, there is always the option of ending the car subscription with a notice period of three months. Volvo's service is similar to that of Finn*. Deliveries and collections for maintenance and workshop appointments are free of charge and organized for you. It is also possible to get a replacement car if repairs are made.
2. Sixt+
Sixt rules out any assignment to people with poor creditworthiness.
The rental car specialist Sixt is also involved in the car subscription market with the SIXT+ car subscription. With Sixt+, the termination conditions are quite flexible at the end of the month. A long-term commitment or obligation is thus eliminated. ADAC members receive a bonus on the kilometers with Sixt Auto. But unfortunately this is of no use to you if you have a negative Schufa entry. Because the provider makes it unmistakably clear on its website that the award only takes place if the credit check is positive:
3. ViveLaCar
Car subscription without Schufa? – Not at Vivelacar. Only people with a good credit rating are accepted here.
ViveLaCar is a Stuttgart-based provider of car subscriptions that focuses exclusively on people with good credit directs. The provider works with several car dealers who have unused vehicles in the yard and conveys them to customers who need a car at short notice. The process is completely digital: When applying, all you have to do is enter data from your driver's license and ID card and agree to a Schufa check. ViveLaCar then makes a credit check with the Schufa and activates you if you have a good credit rating.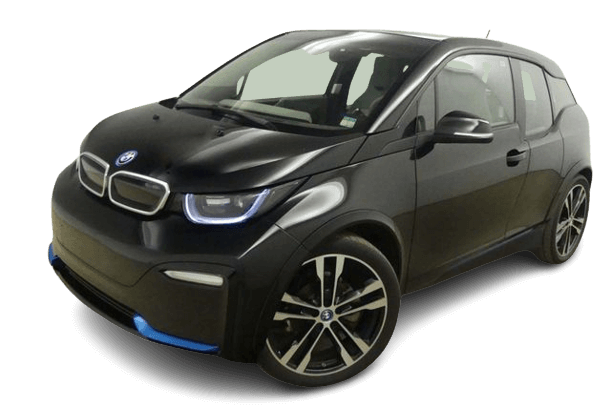 The provider has several kilometer packages and is therefore as flexible as Finn*. However, with the latter, it is still possible to take out a car subscription even if your credit rating is not perfect. Finn is also more convincing in terms of price than ViveLaCar. The BMW i3 at ViveLaCar costs €690 per month with 1,500 KM. At Finn, the identical vehicle is available for €660, despite the more relaxed Schufa check. This is a savings of €360 per year. So it doesn't matter that ViveLaCar checks your Schufa more closely: The provider can't keep up with the price anyway Finn* keep up.
4. Like2drive
Even with Like2drive, people with bad credit bureau have no chance - the provider checks the credit bureau meticulously.
If you would like to subscribe to a car via like2drive, in addition to personal information and details about the desired vehicle, you must also agree that like2drive may carry out a Schufa credit check. Only if the credit check is positive will like2drive send you the contract documents for the car subscription contract by email. In the case of negative Schufa entries, however, you will be rejected as a customer at Like2drive. Alternatively you can at Finn* Requests. This is one of the very few car subscription providers who will not immediately reject you, even if you have negative entries in the Schufa.
If you are not sure about your creditworthiness, it may be worth asking Like2drive: The provider has one of the cheapest car subscriptions in Germany. The prices start at 200 € per month. When it comes to flexibility, however, you have to accept a few compromises. So you can only take out many cars as a 12 or 24 month subscription.
Which providers of car subscriptions without Schufa are not serious
With the car subscription without Schufa, there is the same as with the Car leasing without Schufa some providers who do not make you a serious offer. It is therefore better to trust in established providers who have already established themselves on the market. To avoid bad experiences, you could cancel your car subscription with the provider Finn* Requests. With this provider you will receive a fair offer and will not have to pay exorbitant subscription fees, as is sometimes the case with other providers.
What you can do if your subscription contract is rejected
If you have a negative Schufa entry and you are refused a car subscription contract, you don't have to throw in the towel right away. Instead, be persistent. The following points can help you get a car subscription with negative Schufa if you have already been rejected.
Our tips for rejection
Do not neglect deeper problems with the Schufa
The first two points are topics that you can quickly deal with online. question at Finn*, or consider taking your vehicle with you bon credit can't just finance it yourself. Bon-kredit has thousands of satisfied customers who have had a car financed despite a negative credit bureau entry.
Still, you should also get the points Credit bureau score check and maintain as well as the household bill don't skip it if you've already been rejected. If you have one unauthorized Schufa entry have, this will make your life difficult in many respects. Make sure it disappears and make sure you can actually afford your dream car with a household bill.
You can find out some other alternatives to the car subscription without Schufa in the following section.
What alternatives are there to the car subscription without Schufa?
With a long-term rental from a classic car rental company, a credit or debit card is usually sufficient to rent a car. A Schufa information is usually not obtained. However, an amount for the deposit can be blocked on the credit card. A disadvantage is that you have to change cars frequently. Transit times of 30-60 days are usual. Then you have to sign a new lease.
Here are our 4 best alternatives to a car subscription without Schufa:
1.Long-term rental without Schufa
A long-term rental contract is considered by some German car dealerships Car dealership financing despite negative credit bureau offered. The dealer finances your vehicle. Legally, however, it is a long-term lease. The dealer has the right to confiscate the car in case of late payment.
2. Leasing without Schufa
Another alternative could be in a Leasing without Schufa represent. There are also various providers who offer car leasing without Schufa information or reporting. However, classic dealer leasing is usually associated with a Schufa report. Leasing is more suitable for customers who plan to use a car for a longer period of time. The minimum term here is usually 2 years. You should also be prepared to take care of some organizational things related to the car.
3. Car sharing
If you only want to use a car occasionally or rarely, then membership in a car sharing service could also be an alternative. A prerequisite for good availability is often a central residential area in a larger city
4. Alternative to the car subscription without Schufa: car loan despite Schufa
But buying a car is also an alternative to owning a vehicle with a bad credit rating if you plan to use the car for a longer period of time. If you don't have enough money in your account at the moment, you could use a Credit despite negative credit bureau come into question.
If a new car is not that important to you, it is usually cheaper to buy a used car that is in good condition. In that case, you should be ready to take care of the maintenance and management of the car yourself. This includes registration and insurance of the car. For a budget of 5,000 euros, gas-powered small cars such as the Fiat Panda or the Opel Corsa are particularly suitable. In our guide Which car at 1000 euros net you will find some other vehicle models for a small budget. As a loan provider that gives you a Credit with bad credit grant, are suitable bon credit* or Smava*. In addition, there are also providers who are on the Vehicle title as security so that you remain flexible when selling. Here would be primarily the ING Bank* A recommendation due to favorable interest rates.
Other alternatives to the Used car financing despite negative credit bureau can be found in the linked article. There you will also find out how you can still finance a used car despite the rejection of the loan.
Long-term rental and car subscription sound very similar. What's the difference then?
A Auto Abo has a minimum term of 3 months and is more flexible in the choice of vehicle. Special requests for equipment are often possible. When renting a car, on the other hand, from 28 days of long term rental spoken. The car is rented as it is available. A shorter lead time is usual for this. As a rule, the car can be disposed of the very next day. There is also a difference in the method of payment. Payment for a car subscription is more likely to be on account. The long-term car rental is paid for by credit card or by prepayment with the giro card or by direct debit from the account.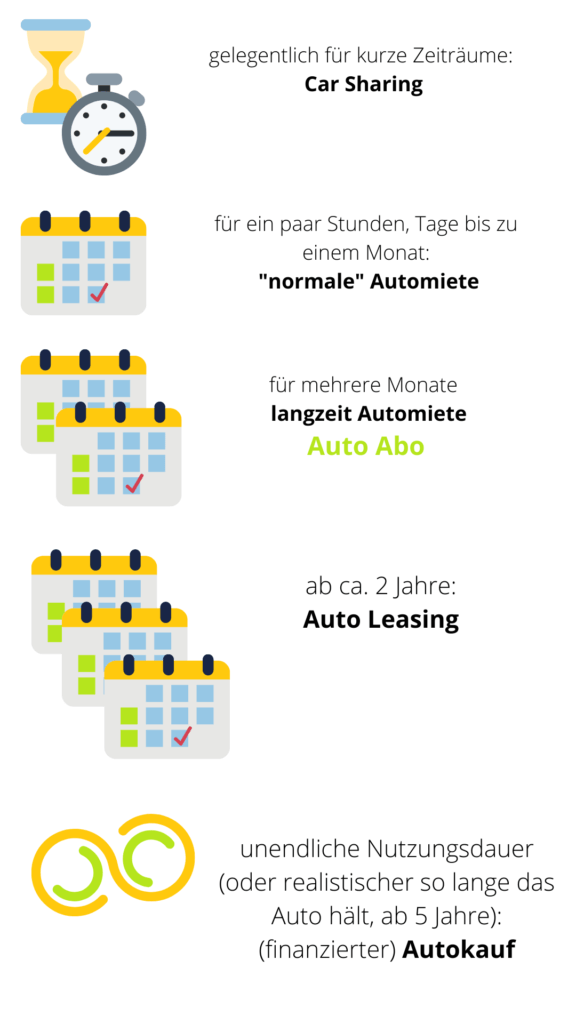 Car subscription without and despite Schufa: Services
Basically, before taking out a subscription, you should consider whether you can pay all the costs incurred. With a car subscription, many costs are already included in the monthly price. the User fee, wear and tear, warranty repairs, comprehensive insurance and taxes are already included. In addition, there may be fees for delivery and collection. Fuel and possibly extra kilometers used are added to this. There are also additional costs if the car is damaged. the comprehensive insurance has an equity stake. This amount is due for each damage. Upon return there will be a decrease. If damage such as dents or larger scratches is found here, extra costs will be incurred. An additional driver also costs money with many providers.
You can save on the rate if you choose a cheap vehicle, drive few kilometers and choose a longer contract period.
The desire to protect your Schufa score from being burdened can be another reason for a car subscription without a Schufa query. An example would be keeping the Schufa clean due to an upcoming real estate financing. So you avoid at the construction financing an interest rate premium. Since this amount is high, an interest premium is very important.
What does Schufa stand for and what is it?
Schufa originally stood for "Schutzgemeinschaft für Absatzfinanzierung". Today, Schufa Holding AG is a company that helps other companies assess the creditworthiness of customers. To do this, the company collects data from consumers with the help of its cooperation partners. The data is summed up in a value (score). The higher the score, the better. The highest possible Schufa score is 1000.
Information is collected on, among other things, opened accounts, telephone, mobile phone and Internet contracts, loans (including applications), existing installment payments for larger purchases from dealers and leasing contracts, for example for a car.

Conclusion on the car subscription without Schufa
Without proof of solvency, it becomes difficult with a car subscription. One Long-term car rental without credit check therefore does not exist.
However, there are alternatives. Some providers, like Finn* do not insist on a flawless Schufa report without entries. In addition, you can get a car from Finn for €300 a month including maintenance costs. This makes the car subscription very cheap compared to alternatives such as long-term rental (direct financing via the car dealership), Leasing without Schufa or a Car loan without Schufa. Another advantage of the car subscription, despite the negative Schufa, is of course the low effort you have with the car. So you don't have to worry about repairs and maintenance, because Finn takes care of it. However, many classic providers of car subscriptions such as Sixt are out of the question without a clean Schufa.
*Affiliate link: If you go through one of these links from my website to a vendor, I may receive a commission. There will be no additional costs for you. For the use of these links a ❤️ THANK YOU! ❤️
Disclaimer: This is well researched but non-binding information.
We are sorry that this post was not useful for you!
Let us improve this post!
Tell us how we can improve this post?