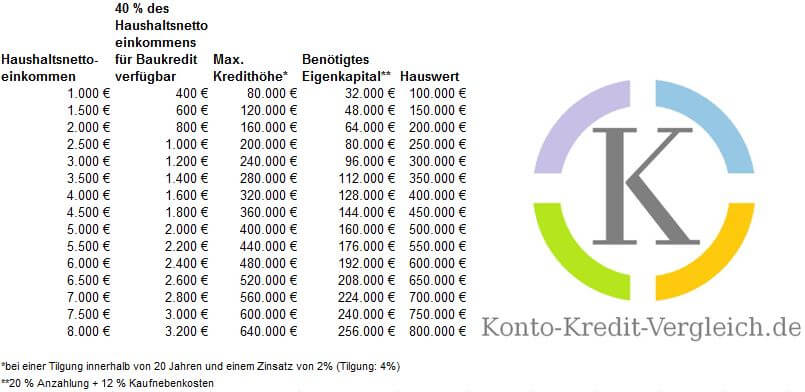 "What house I can afford?" Auf Basis des Nettoeinkommens gibt die Tabelle einen groben Anhaltswert bis zu welchem Betrag eine Immobilie sinnvoll finanzierbar ist. Wie in der Tabelle ersichtlich ist, beträgt der Immobilienpreis dabei das 100-fache des monatlichen Nettoeinkommens.
What house I can afford? The monthly net income multiplied by 110 gives the highest possible home loan. The net income does not only consist of the net wage. Rental income, child benefit, survivor's pensions or capital gains are also included.
"Wie viel Haus kann ich mir leisten?" Fünf Tipps, um dein Budget zu schonen!
Get offers: Beantworte die Frage: "Wie viel Haus kann ich mir leisten?", realistisch und ehrlich. Berücksichtige bei der Planung einen Puffer, denn erstens kommt es anders und zweitens als man denkt.
Use as much of your own resources as possible: The lower the mortgage on the property, the better your interest rate will be. This effect allows you to lower your monthly rate for two reasons: Not only is the loan smaller, the offer is also better!
Apply for Baukindergeld: The Baukindergeld amounts to 1,200 euros per year for 10 years, i.e. 12,000 euros per child in total. You can apply for a household income up to a maximum of 90,000 euros for one child plus 15,000 euros for each additional child. The application is processed through KfW.
Nutze Förderungen: the Credit institution for reconstruction (KfW) offer numerous grant programs. Mainly the conversion to low-barrier and energy-efficient apartments is promoted.
reduce property transfer tax: Beim Kauf einer Immobilie werden häufig Grundstück und Immobilie im Paket erworben. Die Grunderwerbssteuer wird dann auf den gesamten Kaufpreis erhoben. Je nach Bundesland sind dies zwischen 3,5 und 6,5 Prozent. Bei Neubauimmobilien wird die Grunderwerbssteuer bei alleinigem Kauf des Grundstücks nur auf den Grundstückspreis erhoben. Um die Auftragsvergabe an ein Bauunternehmen kümmerst du dich dann einfach selbst. Aber auch beim Wohnungskauf lässt sich so mancher Euro sparen. "Nicht verbundene Einrichtungsgegenstände" sind von der Grundsteuer befreit. Dies betrifft beispielsweise Küchen, Markisen, Saunen oder sonstiges in der Wohnung verbleibendes Inventar.
Vereinbare einen Tilgungssatzwechsel, um flexibel zu bleiben
Beachte auch die Vorlaufzinsen
Bei Verzögerungen zum Baubeginn können zusätzlich Vorlaufzinsen fällig werden. Diese verringern dein Budget.
advance interest werden von Banken verlangt, wenn der Kreditnehmer ein Darlehen schon vor dessen geplanten Beginn am Monatsanfang erhält. Da der Vorlaufzins dem Kreditzins entspricht, hast du keinen Nachteil daraus. Zwar zahlst durch die längere Laufzeit insgesamt mehr Zinsen, allerdings hast du den Kredit auch entsprechend länger.
We are sorry that this post was not useful for you!
Let us improve this post!
Tell us how we can improve this post?