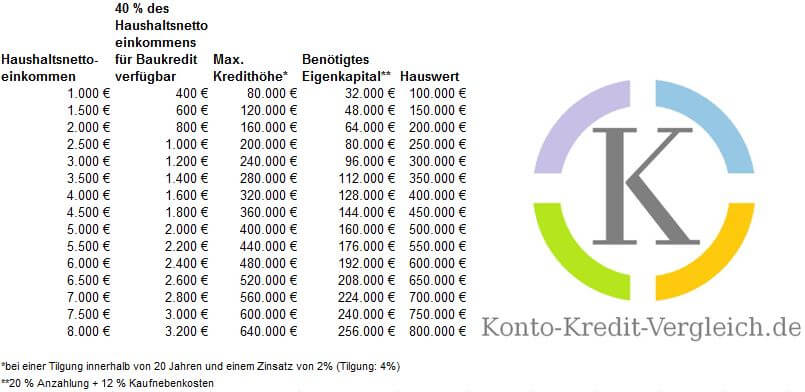 "What house I can afford?" Based on the net income, the table gives a rough indication of the amount up to which a property can be reasonably financed. As can be seen in the table, the real estate price is 100 times the monthly net income.
What house I can afford? The monthly net income multiplied by 110 gives the highest possible home loan. The net income does not only consist of the net wage. Rental income, child benefit, survivor's pensions or capital gains are also included.
"How much house can I afford?" Five tips to save on your budget!
Get offers: Answer the question: "How much house can I afford?" realistically and honestly. When planning, allow for a buffer, because firstly things happen differently and secondly than you think.
Use as much of your own resources as possible: The lower the mortgage on the property, the better your interest rate will be. This effect allows you to lower your monthly rate for two reasons: Not only is the loan smaller, the offer is also better!
Apply for Baukindergeld: The Baukindergeld amounts to 1,200 euros per year for 10 years, i.e. 12,000 euros per child in total. You can apply for a household income up to a maximum of 90,000 euros for one child plus 15,000 euros for each additional child. The application is processed through KfW.
Take advantage of grants: the Credit institution for reconstruction (KfW) offer numerous grant programs. Mainly the conversion to low-barrier and energy-efficient apartments is promoted.
reduce property transfer taxWhen buying a property, the land and the property are often purchased as a package. The land transfer tax is then levied on the entire purchase price. Depending on the federal state, this is between 3.5 and 6.5 percent. In the case of new-build properties, the land transfer tax is only levied on the price of the land if the property is purchased alone. You then simply take care of awarding the contract to a construction company yourself. But you can also save many a euro when buying an apartment. "Unrelated furnishings" are exempt from property tax. This applies, for example, to kitchens, awnings, saunas or other fixtures that remain in the apartment.
Arrange a Repayment rate change, to remain flexible
In the event of delays to the start of construction, additional advance interest may be due. These reduce your budget.
advance interest Preliminary interest is charged by banks if the borrower receives a loan before it is scheduled to begin at the beginning of the month. Since the advance interest corresponds to the loan interest, you have no disadvantage from it. Although you pay more interest overall due to the longer term, you also have the loan for longer.
We are sorry that this post was not useful for you!
Let us improve this post!
Tell us how we can improve this post?