As a popular social trading platform, eToro is known for its ease of use and the ability to interact with other traders. However, while many investors are convinced of eToro's benefits, there are also some hidden costs at eToro that you should be aware of. In this article, we will take a closer look at five fee traps at eToro to make sure you are well informed as an investor.
5 hidden costs at eToro
1. conversion fee up to 150 pips in case of deposits and payout
One of the first fee traps you may encounter at eToro is the Conversion fees for deposits and withdrawals. For example, if you want to deposit money in Euros via bank transfer, eToro charges a conversion fee of over 50 pips for the conversion to the eToro account managed in USD. If you use a credit card for the deposit, there is even 150 pips. EToro charges a conversion fee again for the withdrawal, as the money then has to be exchanged back.
This means that you will have to pay a significant percentage of your deposit as a fee. So if you are planning to deposit money, be sure to check the current exchange rates and keep in mind the conversion fees at eToro.
| Type of costs for deposit/withdrawal in Euro | Hidden costs at eToro |
| --- | --- |
| Deposit eToro Money | For free |
| Withdraw eToro Money | 150 pips |
| Deposit Wallets | 150 pips |
| Payout Wallets | 150 pips |
| Deposit online banking | 150 pips |
| Withdraw Online Banking | 150 pips |
| Deposit debit/credit card | 150 pips |
| Pay out debit/credit card | 150 pips |
| Deposit Bank Transfer | 50 pips |
| Pay out bank transfer | 50 pips |
2. cost of holding a CFD position until the next day: 50 to 150 bps overnight fees.
Another fee trap at eToro are the so-called Overnight Feasts. If you hold a CFD position overnight, you will incur fees ranging from 50 to 150 basis points (bps). These fees are calculated based on the total value of the position and can add up quickly. As you can see, it's important to consider overnight fees. Especially if you want to hold longer-term positions, these hidden costs add up nicely.
3. hidden costs at eToro: the spread is 0.15 % for stocks and ETF CFDs
When trading stocks through eToro, a spread is incurred, which is the difference between the buy and sell price of a stock. At eToro, the spread for stock and ETF CFDs is 0.15 percent of the spread. This means that when you buy a stock you have to pay the current price plus 0.15%, and when you sell the stock you get the current price minus 0.15%. Although this spread can be considered relatively low compared to other online brokers, it is still important to take it into account when making your trading decisions. Other investment instruments have higher fees. For example, the spread for cryptocurrencies is 1 % and for LUNC it is as high as 1.3 %.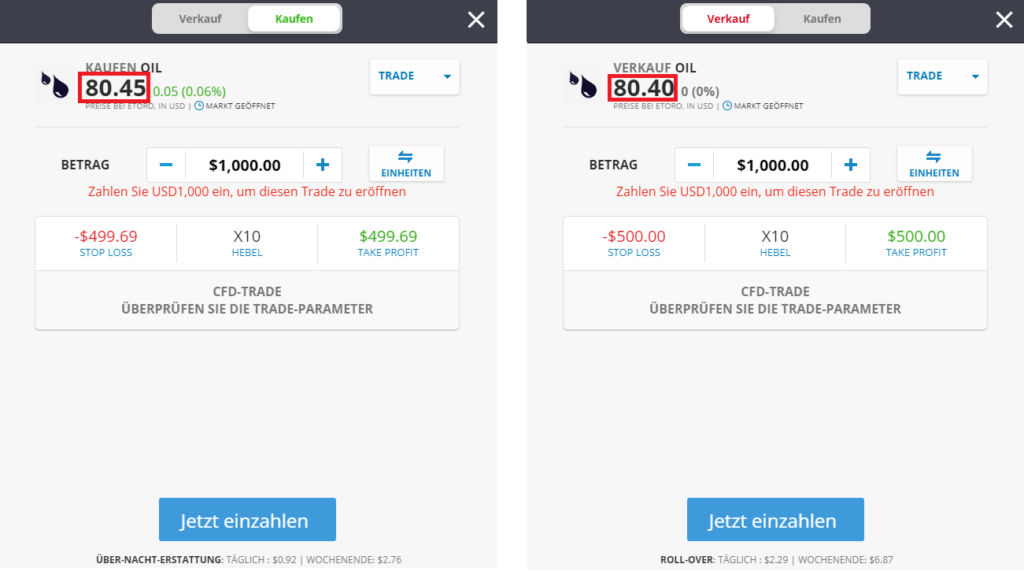 4. withdrawal fees - 5 USD per withdrawal additionally
Another cost trap at eToro are the fees for withdrawals. For each withdrawal, eToro charges a fee of 5 USD. So if you want to make frequent withdrawals, these fees can quickly increase. It is advisable to make larger withdrawals to reduce the number of transactions and thus the fees. Also, eToro requires a minimum withdrawal amount of $30.
5. hidden costs at eToro: 10 USD inactivity fee from the 13th month without login.
Last but not least, eToro charges an inactivity fee of 10 USD if you do not log in to your account for a period of 12 months. This fee is charged monthly and can be avoided by logging into eToro on a regular basis. It is important to keep this fee in mind and log in regularly to avoid it.
How Can I Contact eToro?
If you have further questions about eToro's fees or need help contacting customer service, you can find more information on the official eToro website. There you will also find information about how to open your Cancel eToro account in case you want to choose another trading platform.
eToro address
eToro (UK) Ltd.
Canary Wharf E14 5AB
London
United Kingdom
eToro email
customerservice@etoro.com
eToro website
How can I cancel eToro?
If you want to cancel your membership with eToro, you can do so easily. Proceed as follows:
Log in to the eToro website and click on your profile picture in the top right corner.
Select the "Settings" option from the drop-down menu.
Scroll down and click on the link "Close your eToro account".
Follow the on-screen instructions to complete your cancellation.
eToro experience
Based on the experiences of eToro users, the picture is mixed. High fees, poor support and a buggy app are some of the main criticisms of rating portals such as financial flow or Trustpilot. Positive mentions are made of the many Deposit and withdrawal options as well as the fun of trading with the app.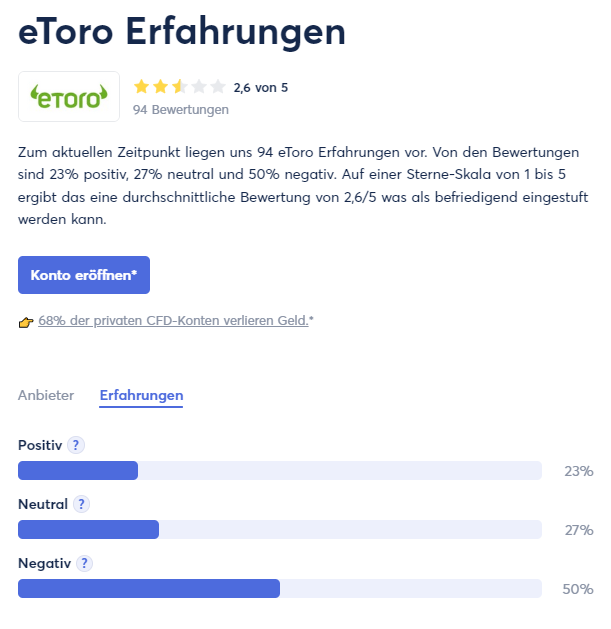 eToro Pros and Cons
I have analyzed 94 eToro experiences and summarized the results in this pros and cons list.
Per eToro
Deposit via PayPal is convenient.
Opportunity to build something personally on the side.
Special option to tax profits yourself can be practical.
Contra eToro
High spreads (especially for cryptocurrencies)
Problems with the user interface of the Android app (clarity).
High fees, unclear fee structure and hidden costs at eToro.
Difficulties in transferring cryptocurrencies to the wallet.
Privacy concerns and apparent data collection.
Problems with payouts and verification processes.
Misunderstandings and problems with trades, stop loss and take profit.
Difficulties with customer service, poor accessibility.
Lack of support, unclear or lack of communication.
What is the best alternative to eToro?
Below is a comparison of eToro with IG and Plus500 in terms of tradable markets, spreads, commissions, available leverage and general advantages and disadvantages.
| | | | |
| --- | --- | --- | --- |
| | eToro | IG | Naga |
| Available markets | Forex, CFDs on stocks, indices, commodities | Forex, CFDs on stocks, indices, commodities, cryptos | Autocopy |
| Minimum spreads | From 1.0 pips | From 0.6 pips | 0,99 € up to 10 € profit, above 5% of profit |
| Commissions | Spread-based fees | Spread-based fees | Spread-based fee naga heble |
| Lever | Up to 1:30 | Up to 1:30 (retail), higher for professional customers | Up to 1:30 (Forex) |
| advantages | Wide range of markets, social trading function, user-friendly platform | Wide range of markets, user-friendly platform | Wide range of markets, user-friendly platform |
| Disadvantages | Higher minimum spreads, limited customer support | Higher minimum spreads, limited choice of cryptocurrencies | Rather suitable for beginners |
eToro Alternatives. Source: Broker-Ratings.com
If you are looking for an alternative to eToro, you have several options to choose from. One popular option is IG, a leading global trading platform. IG offers a user-friendly interface for beginners as well as advanced features for experienced traders.
But also Naga is an interesting alternative for newcomers to copy trading. Naga convinces especially with a particularly favorable fee structure.
Another alternative is Plus500, a user-friendly trading platform that offers a variety of assets for trading, including stocks, commodities, indices, and cryptocurrencies. Plus500 features low fees and an intuitive user interface that makes trading easy and accessible.
If you are looking for an alternative to eToro, we also recommend you to read our articles on affiliate marketing, Trading and Earn money on the Internet to read. There you will find more information and tips to achieve your financial goals.
Find the right alternative for your needs
Whether you want to quit eToro or are simply looking for a new trading platform, it is important to find the right alternative. Investigate the different options and see which platform best meets your needs. If you want more information on trading, you can find it at Konto-Kredit-Vergleich.de some more contributions like: Make money with trading: 24 tips (that work).
We are sorry that this post was not useful for you!
Let us improve this post!
Tell us how we can improve this post?