Earning €12,500 a day is an enormous amount of money and a dream of many. To earn this much money, it is almost always necessary to make large sacrifices in the areas of free time and family. With an average of 20.8 working days a month, €12,500 a day is €260,000 a month, and with an average of 250 working days a year, €3.125 million a year. This would make you one of the absolute top earners in Germany, as your salary would be more than 60 times the average. However, there are also people in Germany who are in this salary bracket. The top management of large companies is one of them. But self-employed people and entrepreneurs can also earn several thousand euros a month.
Although the opportunities to earn so much money are rare, there are several other ways and career paths that you can earn €12,500 a day. In this article I will introduce you to 13 of these opportunities.
Which means earning €12,500 a day!
According to the Federal Statistical Office, the average monthly gross salary of full-time employees in 2021 was around 4,100 euros. If all employees in part-time or marginal employment are also included, the average income in Germany in 2021 is 3,199 euros per month.
Thus, assuming that a month contains an average of 20.8 working days, a full-time employee in Germany earned €197 per day in 2021.
So if you earn €12,500 a day, that's 63 times the average earnings of a full-time employee.

13 ways to earn €12,500 a day
Insurance agent
Those who work as insurance agents may not earn EUR 12,500 a day, but they are also among those who earn the most across Germany without academic training. That's because the net monthly salary was reported in a "Is it worth it?" Folge with 4,175 € indicated. At the same time, this corresponds to about 7,300 € gross or 87,600 € gross per year. This puts insurance agents well ahead of financial experts in the salary ranking, who lead the Stepstone salary ranking 2023 for professions without a degree with €43,175.
As an insurance agent, you provide your customers with suitable insurance policies and investment opportunities. Particularly high salaries are possible through long-term cooperation with customers. This is often accompanied by high-quality advice, as customers turn to other insurance agents without high-quality advice.
To earn money as an insurance agent, regular Advanced training needed. On the one hand, these are necessary in order to keep up to date and to be able to provide up-to-date advice. In addition, regular training is required by law in order to be able to advise on insurance. In addition, you can often improve your earnings as an insurance agent by training as a businessman for insurance and finance (IHK) and studying to become a specialist in insurance and finance (IHK).
In addition, a very important point when it comes to salary as an insurance agent is the Cancellation liability. An insurance agent must return a paid commission to the insurance company up to 5 years later if the customer cancels the contract during this period. In addition, you should consider that as an insurance agent you have to be constantly available for your customers, which can lead to high stress.
For a personal experience from a young insurance agent, watch the video of "Is it worth it?"
Earn €12,500 a day as CEO of a large company
CEOs of large companies often have extraordinarily high salaries. This is because the salaries of Dax board members and group CEOs averaged €3.9 million in 2021. Earnings thus correspond to €15,600 per working day. DAX board members therefore earn an average of 25 % more than €12,500 a day.
In general, the salary of CEO positions depends strongly on the size, performance and industry of the company. Larger companies pay their CEOs the best.
This is because 25 out of 40 Dax companies pay more than €12,500 per working day to the Board of Management. This is the result of a study conducted by DSW in collaboration with the Technical University of Munich. Linde AG paid its then CEO Steve Angel more than €35,000 for a day in the office in 2021. Steve Angel therefore earned €12,500 approximately three times each day in 2021. This meant that the CEO received the highest salary of the DAX board members. But also the CEOs of Qiagen, the Deutsche BankVW, Merck, BMW and many other DAX companies earned significantly more than €12,500 per day in 2021.
The following table shows the DAX CEOs' earnings per working day. As already mentioned, more than half of all DAX CEOs earn more than €12,500 per day. The CEO compensation shown here is taken from the aforementioned study.
25 out of 40 DAX CEOs earn more than €12,500 a day
| Society | Executive Board compensation per working day | Executive Board compensation per year |
| --- | --- | --- |
| Daimler Truck | 3.464 € | 0.9 million € |
| Porsche Automotive Holding | 4.160 € | 1 million € |
| Zalando | 4.280 € | 1.1 million € |
| Sartorius | 5.696 € | 1.4 million € |
| Hanover Re | 6.332 € | 1.6 million € |
| Symrise | 8.280 € | 2.1 million € |
| MTU | 9.464 € | 2.4 million € |
| Infineon | 10.836 € | 2.7 million € |
| Brenntag | 10.896 € | 2.7 million € |
| HelloFresh | 11.172 € | 2.8 million € |
| Munich RE | 11.696 € | 2.9 million € |
| Vonovia | 11.712 € | 2.9 million € |
| Delivery Hero | 11.808 € | 3 million € |
| Puma | 12.092 € | 3 million € |
| German Post | 12.204 € | 3.1 million € |
| German stock exchange | 12.272 € | 3.1 million € |
| E.ON | 12.708 € | 3.2 million € |
| Fresenius Medical Care | 13.456 € | 3.4 million € |
| Fresenius | 14.208 € | 3.6 million € |
| Heidelberg Cement | 14.496 € | 3.6 million € |
| Siemens Healthineers | 14.512 € | 3.6 million € |
| Continental | 14.684 € | 3.7 million € |
| MercedesBenz | 14.904 € | 3.7 million € |
| Alliance | 14.988 € | 3.7 million € |
| Covestro | 15.076 € | 3.8 million € |
| RWE | 15.292 € | 3.8 million € |
| German Telekom | 15.496 € | 3.9 million € |
| DAX average | 15.684 € | 3.9 million € |
| Adidas | 18.212 € | 4.6 million € |
| BMW | 18.604 € | 4.7 million € |
| Bayer | 18.820 € | 4.7 million € |
| Handle | 19.100 € | 4.8 million € |
| Airbus | 19.892 € | 5 million € |
| BASF | 21.376 € | 5.3 million € |
| Siemens | 21.568 € | 5.4 million € |
| SAP | 23.020 € | 5.8 million € |
| Merck | 25.448 € | 6.4 million € |
| Volkswagen | 25.824 € | 6.5 million € |
| German Bank | 27.524 € | 6.9 million € |
| Qiagen | 29.952 € | 7.5 million € |
| Linden | 35.156 € | 8.8 million € |
Tip to make money on the side: Copy trading
If you are willing to take some risk and have €200 for an initial investment, you can sign up with eToro* eToro is one of the most popular social trading platforms for copy traders.
79 % of retail investor accounts lose money when trading CFDs with eToro.
Especially if you are looking for trading stocks or crypto the Expertise or the time for research is missingYou can still invest wisely with this technology. Namely, by simply imitating the trade of a professional. In this way, you use the knowledge of experts and simply skim off their returns.
Especially as a beginner, it is important that you do not rush into your investments and make high-risk decisions without the absolutely necessary prior knowledge. With Copy Trading you can reduce your risk of losing money through ignorance by leaving the selection of stocks to the professionals. You, on the other hand, simply copy the best traders automatically.
Copy trading is therefore a good way to increase your chances of earning maximize. At the same time, you are not the one who has to make the tricky and risky decisions on the stock market. Because copy traders have simply outsourced this task, so to speak.
With enough capital, 50 Euro profit per day is realistic with copy trading. If you start with a small budget, the profits will also be smaller.
Recommended provider for aspiring copy traders

Copy the best traders on the platform
Average annual profit of the 50 most copied traders for 2021: 30.4 %

✓ Top traders work for you - without management fees
✓ Lively community
✓ Free Demo Account

4.3 stars on Trustpilot from over 17,950 reviews
To the provider:
etoro.com
Earning €12,500 a day as a successful investment banker
While income millionaires are rare even among the best-paid investment bankers, they do exist in many EU countries. In countries such as Germany, Spain, France and Italy (and especially in the UK), there are some investment bankers who earn more than €12,500 a day or €3 million a year.
This is the result of the report on top earners in the banking industry published by the European Banking Authority (EBA). Most of these top earners work either in management positions or in investment banking:
At the same time, the 40 best paid bankers, earn more than 12,500 € every day
In fact, according to the EBA, there are more 40 bankers in Germany who earn even more than €3 million or €12,500 per working day. But top investment bankers in other EU countries also earn more than €12,500 a day: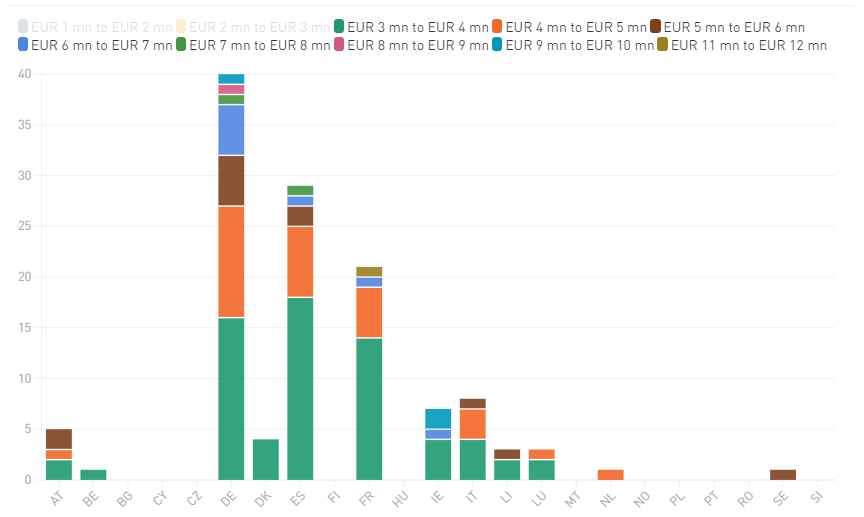 If you consider all bankers who earn more than one million euros a year, you get more than 550 in Germany alone.
The amount an investment banker can earn depends on many factors, such as their experience, their position within the bank, the size and success of the bank and the location where they work. In the EU, investment bankers earn the most in London and Frankfurt.
However, these salaries are of course the absolute exception. On average, investment bankers in Germany earn between €75,000 and €480,000 a year, depending on experience, position and location:
| Job title | Approximate salary |
| --- | --- |
| Analyst (1st year) | 75.000 € |
| Analyst (2nd year) | 85.000 € |
| Analyst (3rd year) | 10.000 € |
| Associate (1st year) | 115.000 € |
| Associate (2nd year) | 130.000 € |
| Associate (3rd year) | 145.000 € |
| Vice president | 220.000 € |
| Director | 250.000 € |
| Managing Director | 480.000 € |
Typical salaries in banking. Source: efinancialcareers.com.
Before being dazzled by the high earnings of investment bankers, however, it should also be noted that the profession is associated with high pressure and long working hours. It is not uncommon for investment bankers to work 60 or more hours per week.
As a notary
In Germany, notaries who exclusively practice this profession earn an average of 475,000 euros per year. This was determined by the Federal Statistical Office in the latest wage and income statistics. Thus, the 1700 full-time notaries in Germany are among the 100,000 highest earners in the country. This is because only 0.2 percent of all taxpayers in Germany earn more than 375,000 euros per year, as determined by Wirtschaftswoche.
If you convert the earnings of full-time working notaries in this case to a working day, notaries earn € 1,900 per day. This still does not bring you up to the €12,500 per day targeted here, but unlike other jobs, your extraordinarily high salary is supported by a government fee schedule.
The highest income is achieved by notaries in corporate law. A notary can earn up to 27,000 euros from a company merger if its balance sheet total is ten million euros or more. The good earnings of notaries are even regulated by law via fee schedules.
As a lawyer in a large law firm
Salaries for attorneys in large law firms can vary widely depending on career level. Here are some examples of average salaries in Germany:
| Career Stage | Salary in Germany |
| --- | --- |
| Equity Partner | more than € 260,000 per year |
| Counsel / Local Partner (10+ years of professional experience) | 160.000 - 250.000 € per year |
| Senior Associate (7-9 years of professional experience) | 100.000 - 160.000 € per year |
| Associate (4-6 years of professional experience | 75.000 - 125.000 € per year |
| Junior Associate (1-3 years of work experience) | 60.000 - 100.000 € per year |
Source: Robert Walters Salary Study 2020 and own research
The salary of major US law firms is usually significantly higher than that of their Frankfurt counterparts. Equity partners in the USA earn more than 500,000 euros per year. In second place are large law firms in the UK, which pay their equity partners 400,000 euros and more.
| Country | salary |
| --- | --- |
| Equity Partner in the USA | more than 500.000 € per year |
| Equity Partner in UK | more than 400.000 € per year |
| Equity Partner in Germany | more than € 260,000 per year |
Source: Robert Walters Salary Study 2020 and own research
Salaries for attorneys in large law firms depend on the size and location of the firm, the industry, and individual performance levels. It is also possible for attorneys in large law firms to receive bonuses or other supplements that may increase salary.
As chief physician
Alongside entrepreneurs, notaries and top lawyers, chief physicians are among the absolute top earners in Germany. This is because chief physicians achieve monthly salaries that a hairdresser:in cannot match in a year. The main factors influencing remuneration as a chief physician are specialization, the working environment (hospital, practice) and the location.
The following table shows the Ranking of chief physician salaries of the specialties Internal medicine, radiology, surgery, orthopedics, anesthesia and intensive care, gynecology, urology, neurology / psychiatry, pediatrics and geriatrics.
| Specialty Department | Average earnings |
| --- | --- |
| Internal medicine | 372.000 |
| Radiology | 360.000 |
| Chriugie | 331.000 |
| Orthopedics | 313.000 |
| Anasthesia | 296.000 |
| Gynecology | 257.000 |
| Urology | 256.000 |
| Neurology/Psychiatry | 234.000 |
| Pediatrics | 208.000 |
| Geriatrics | 177.000 |
Chief physicians with the highest average earnings. Source: Kienbaum Compensation Report "Physicians, Managers and Specialists 2019
The highest annual incomes can be achieved by chief physicians in internal medicine, radiology and surgery. In these specialties, chief physicians earn between 331,000 and 372,000 euros on average per year. Salaries usually increase with the size of the hospital.
In addition, chief physicians also pursue additional activities that also generate income. For example, chief physicians often work as medical experts on the side or perform outpatient treatments for patients. In individual cases, chief physician positions can thus earn total annual amounts in the millions and thus just reach the target set here of earning €12,500 a day.
Thus, chief physicians are clearly among the top earners in Germany. But internationally, there is even more to it: In the USA, for example, an average specialist's salary can be around 300,000 euros. Accordingly, chief physicians earn considerably more and often achieve salaries of the equivalent of half a million euros per year. Nevertheless, Germany can hold its own internationally when it comes to salaries for chief physicians. In global terms, physicians outside the USA earn less everywhere else in the world.
Earn €12,500 a day as an athlete
As an athlete in a popular sport such as soccer, it is possible to earn very high incomes at the professional level. Generally speaking, of course, it is extremely unlikely in these salary leagues. In fact, the best-paid soccer players in the world earn significantly more than €12,500 a day.
This is how much the best paid footballers in the world earn according to the Forbes ranking
Kevin de Bruyne (Manchester City) - total income: approx. €29.7 million
Andres Iniesta (Vissel Kobe) - total income: approx. €30.7 million
Eden Hazard (Real Madrid) - total income: approx. € 31.3 million
Robert Lewandowski (FC Barcelona) - total income: approx. € 35.9 million
Erling Haaland (Manchester City) - total income: approx. €40 million
Mohamed Salah (Liverpool FC) - total income: approx. € 54.4 million
Neymar (PSG) - total income: approx. € 89.2 million
Cristiano Ronaldo (Manchester United) - total income: approx. €102 million
Lionel Messi (PSG) - total income: approx. €123.1 million
Kylian Mbappe (PSG) - total income: approx. € 131.5 million
The amount of a footballer's salary usually depends on various factors, such as the country he plays in, the league he plays in, his performance and his reputation. Some of the best paid footballers in the world earn millions of euros per year, but most footballers earn much less.
It is important to note that a footballer's salary may also depend on other factors such as sponsorship contracts, advertising contracts and other income. However, there are many footballers who, despite their talent and achievements, struggle to earn a living, especially in countries or leagues where income is lower.
Earn €12,500 a day as a conductor
High-profile star conductors earn €12,500 a day and more. The salaries of Germany's star conductors are a well-kept secret. However, estimates suggest that Kirill Petrenko (Berlin Philharmonic), Christian Thielemann (Dresden Staatskapelle) or Valery Gergiev (Munich Philharmonic) earn around 1.5 million € per year earn. In other countries such as the USA or Russia, the salaries of top-class conductors are published. The highest salaries of star conductors are beyond €12,500 per day.
According to Drew McManus, who calculated salaries from the orchestra business from tax forms, Riccardo Muti earned the equivalent of about 3.2 million euros a year in the 2018/19 season with the Chicago Symphony Orchestra. His colleague Gustavo Dudamel earned the equivalent of about 2.7 million euros at the Los Angeles Philharmonic Orchestra. The third highest-paid conductor in 2018/19 was Michael Tilson Thomas, who was paid the equivalent of around 2.0 million euros at the San Francisco Symphony Orchestra. The average salary of conductors at 51 major U.S. orchestras was the equivalent of more than half a million euros ($535,000).
The 10 best paid conductors in the USA
Chicago Symphony (Riccardo Muti ): $3,420,804
Los Angeles Philharmonic (Gustavo Dudamel): $2,857,103
San Francisco Symphony (Michael Tilson Thomas): $2,139,720
Boston Symphony: $1,787,000
Philadelphia Orchestra: $1,672,167
Cleveland Orchestra: $1,485,371
Minnesota Orchestra: $1,036,622
Dallas Symphony: $911,024
New York Philharmonic: $816,375
Baltimore Symphony: $756,911
As a management consultant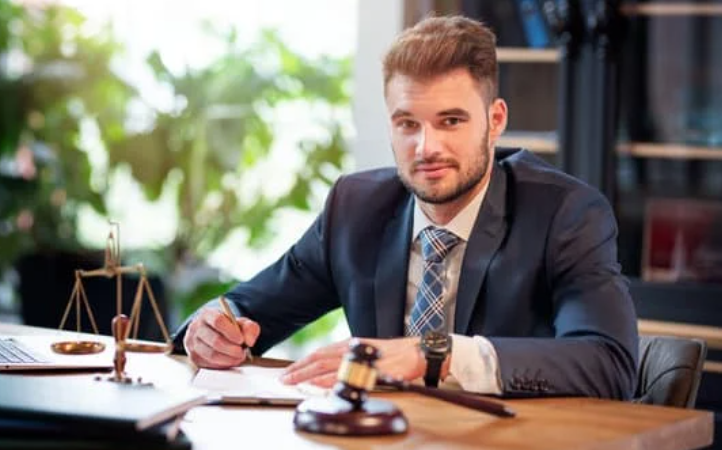 As a management consultant, you earn above average. Salaries of up to €72,300 are realistic. The lower limit as a management consultant is €52,900 and an average of €60,000 can be expected. Management consultants often work in larger cities such as Munich, Berlin or Hamburg, as there is the greatest demand for them there.
These are some typical tasks you will have to do as a management consultant:
You advise the management as an in-house consultant and successfully bring the projects to the road
You support the management in the operative day-to-day business, in management meetings as well as in conceptual and strategic tasks and projects
You create analyses, business evaluations and decision documents
Moderating management meetings
You will oversee the annual planning process and ensure implementation in accordance with the strategic direction of management
You will also prepare decision papers, presentations, evaluations and analyses and assist with revisions
So, as a management consultant you have very good earning opportunities. After all, you can earn about 70 - 100 % more money than the average employee. However, you will not reach a salary of €12,500 per day.
Earn €12,500 a day as an e-commerce entrepreneur
To earn €12,500 a day as an e-commerce entrepreneur requires an investment in an existing e-commerce business of €8 million to €10 million. Most e-commerce businesses are launched on platforms such as Flippa* traded for about 24 times monthly earnings.
An e-commerce company offers excellent opportunities to earn money online. The business model is suitable for both side income and for the long-term development of a profitable business. The sales and marketing opportunities via different channels are versatile, so that beginners, advanced and full professionals can find exciting challenges.
Dropshipping in particular enjoys great popularity, as no own warehouse is needed. Because orders on the website directly forwarded to the dropshipping partner, who takes care of timely shipping.

Earn €12,500 a day as a real estate investor or developer
Real estate investors are independent entrepreneurs who use their knowledge and means to increase their capital. For this purpose, the real estate investor buys houses or apartments, for example, and rents them out. In the long run he makes a profit with the real estate through the rent. Other real estate investors (also called real estate developers), on the other hand, buy real estate in need of renovation at a low price, renovate or refurbish it, and then resell the property at a profit. But a combination of both is of course also possible in order to Earn money: Buy a house in need of renovation in poor condition at a low price, renovate it and then rent it out. But also the investments in neighborhoods that are just turning into "in-neighborhoods" are popular with real estate investors. Here you expect solvent clientele, which in a few years your today still favorably refunded real estate for good money to rent.
An example: A real estate investor learns that a place will soon be connected to a commuter rail line that will be built in the future. This will make the place better connected to the nearest major city and thus an attractive place to live for commuters. Since the number of available apartments does not increase due to the construction of the S-Bahn line, but at the same time the place becomes much more attractive, the prices for apartments and houses increase. The investor benefits from buying houses and apartments near the future train station at an early stage, which he can later rent or sell to commuters.
Earning €12,500 a day as a real estate investor is unrealistic. But if you own a rented apartment, you can save some money for later through the rent payments.
Earn money with valuable collectibles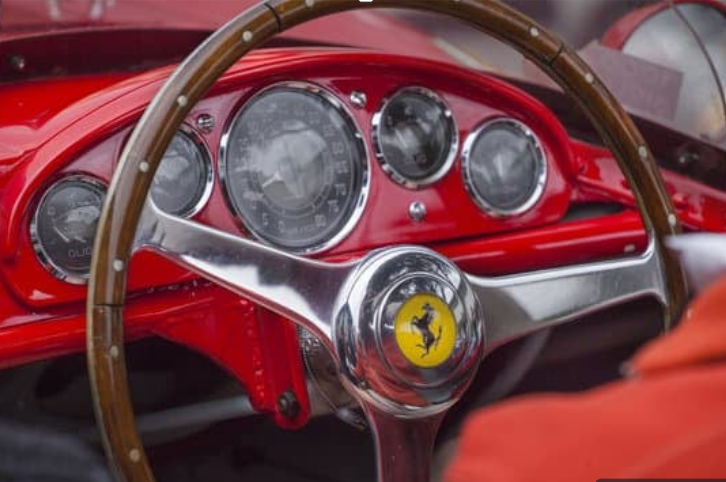 Selling used objects is sustainable and sometimes very profitable. Collector's items in particular are often used to earn money. Vintage cars, watches or even art objects are suitable for this purpose. But also many quite ordinary collectibles can be worth a lot.
Barbie dolls are a classic toy for children. A "Barbie and Elvis" set from 1997 is worth around 100 euros on eBay. The same goes for special products from the PollyPocket series. A Polly Pocket jewel case sold for 1282 euros in December 202.
But old Game Boys, video games and VHS tapes are also considered vintage and are sometimes really expensive collector's items. For example, VHS tapes of "Beauty and the Beast" are traded on eBay for over 100 euros and an original Gameboy is worth more than 380 euros according to price charting. Therefore, old items should not be thrown away hastily. With a bit of luck, it will be a well-preserved collector's item.
But classic collectibles are also suitable for enthusiasts. An insider reports that the average value of collector stamps has increased 2.5 times in the last 10 years. has increased. The most expensive stamp is the British Guiana One Cent Magenta. In one campaign, the equivalent of around 8.3 million euros was bid for it.
Coins, comics, model cars and sneakers are other collectibles that can be used to make money with a little knowledge of the industry.
Earning as an investment fund manager or €12,500 a day
As an investment fund manager, the average salary is €114,000 gross per year, according to Jobted. This corresponds to €9,500 gross per month. This means that investment fund managers earn €5,400 or 132 % more than a salaried employee earns on average, if the data from the German Federal Statistical Office for salaried full-time employees is taken as a basis.
As an investment fund manager, salaries of up to €279,600 gross per year are possible. Entry-level employees, on the other hand, start at around €65,000 gross per year.
For department heads in investment fund management, the annual salary can even reach 400,000 euros, according to Banking Consult. Well-known personalities such as Dirk Müller are likely to earn somewhat more (with their own investment funds). After all, he takes in more than 6.1 million euros per year through his fund alone (383 euros fund volume x 1.6 % management fee).
While you can't usually earn 12,500 euros a day as an investment fund manager either, it's still worth taking a closer look at this and other professions from the list. If you prefer to earn money on your own, you should definitely also look into the opportunities in the Affiliate marketing earn money deal with.
Earn €12,500 a day: final note and conclusion
The most lucrative jobs are in finance and insurance. But doctors, fund managers and self-employed entrepreneurs also earn salaries that at least come closest to €12,500 a day.
It is important to note that it can be very difficult to earn such income and that any line of work requires a lot of hard work, time and dedication to be successful. It's also important to realize that it's not just about that, earn a lot of money todaybut also about living a fulfilled and happy life.
*Affiliate link: If you use one of these links to go from my website to a provider, I may receive a commission. There are no additional costs for you. For using these links a ❤️ THANK YOU! ❤️
Disclaimer: This is well researched but non-binding information.
We are sorry that this post was not useful for you!
Let us improve this post!
Tell us how we can improve this post?