Offerer
cost of information
availability of the information
More information
Bonify

For free
Right away available online
To the provider:
Bonify.de

Schufa GDPR information
for free
Delivery within 4-6 weeks by post
To the provider:
mySchufa.de

Schufa Schufa online credit report:
mySCHUFA
compact: €3.95 per month
Right away available online
Are you wondering which entries are stored in your Schufa data record and would you like to see this data? For this you can query every entry in the Schufa. With Article 15 of the General Data Protection Regulation (GDPR), the legislator has made it a little easier for you to access your data. Because the GDPR gives you the right to know what information is stored in your Schufa file. This free self-assessment must be made available to you once a year free of charge. You have the following options for this:
1. Free online query of your Schufa via Bonify
To keep an eye on your data from the Schufa, all you have to do is register with Bonify for free. This provider retrieves your Schufa data and provides it to you in contrast to the Schufa immediately for free to disposal. You can also have incorrect or outdated entries corrected. This will improve your creditworthiness. I recommend this method because it is easy to use online. You can via this link* Check your Schufa online immediately after a short registration.
2. Free data copy as a letter on paper
You can also contact Schufa directly (meineSCHUFA.de) and request a free data copy in accordance with Art. 15 Para. 3 GDPR. You can submit the application online. The Schufa data copy will only be sent to you in paper form by post. This takes a maximum of 4 weeks. So far I have always received my data copy in 1-2 weeks. The application for the free Schufa information is somewhat hidden. Stay on the website of mySchufa.de Look out for the data copy according to Article 15 GDPR in the footer of the website: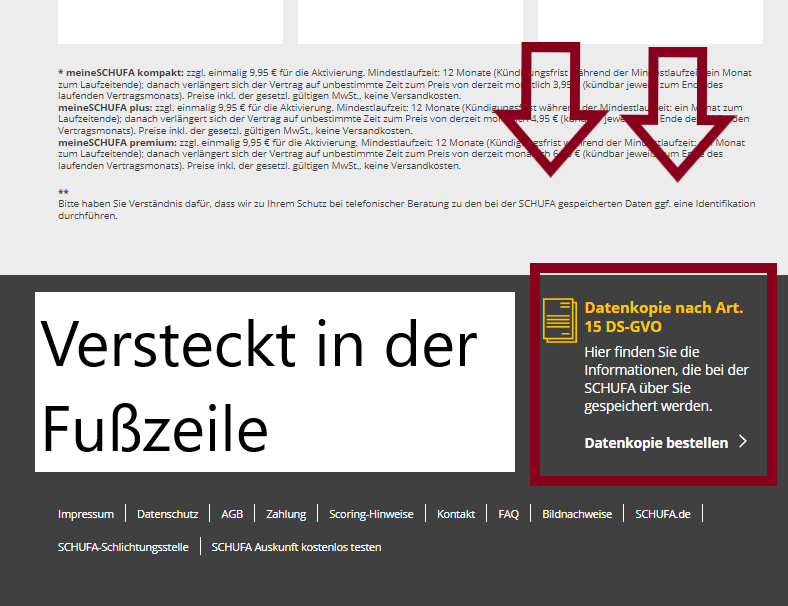 3. Paid online query at the Schufa directly
If you want to view your Schufa entries online immediately, you can also query your data online at the Schufa. A monthly fee of €3.95 is due for this. With the online subscription to Schufa, it is easy to correct incorrect entries in the Schufa report. While you have to write a letter to copy the data, you can do everything conveniently online here. you can over this link* Query your Schufa online immediately after a short registration.

SCHUFA is a private company that evaluates the creditworthiness of private individuals and companies and makes it comparable. SCHUFA is the abbreviation for "Protection Association for General Loan Protection". Since April 2010 you can request a SCHUFA report once a year free of charge.
SCHUFA information for landlords free of charge
The credit report for landlords is much more general than the self-assessment. All details have been deleted for data protection reasons. Its purpose is to make the risk of a prospective tenant transparent to the landlord.
The information only confirms whether positive (e.g taking out a loan, Fully Repaid Loan, Applying for a Credit Card, Opening a checking account) or negative traits (e.g. due, reminded and unpaid claims, use of a current account after a ban on use, ongoing debt collection procedures) exist, but not what they are.
The SCHUFA information
In the SCHUFA self-disclosure (according to §34 BDSG) you can find out which data is available from SCHUFA and from which sources the data was reported to SCHUFA. It is also clear to whom SCHUFA forwarded the data. In addition, the calculated SCHUFA score for individual sectors such as telecommunications companies, mail order or banks is shown in the self-assessment.
Request SCHUFA information free of charge
Where can I get a SCHUFA report?
The order form cannot be found immediately on the Schufa site. The following link will take you there directly. The free self-disclosure corresponds to a data copy according to Art. 15 DS-GVO on the website.
>> Request a free SCHUFA report online here <<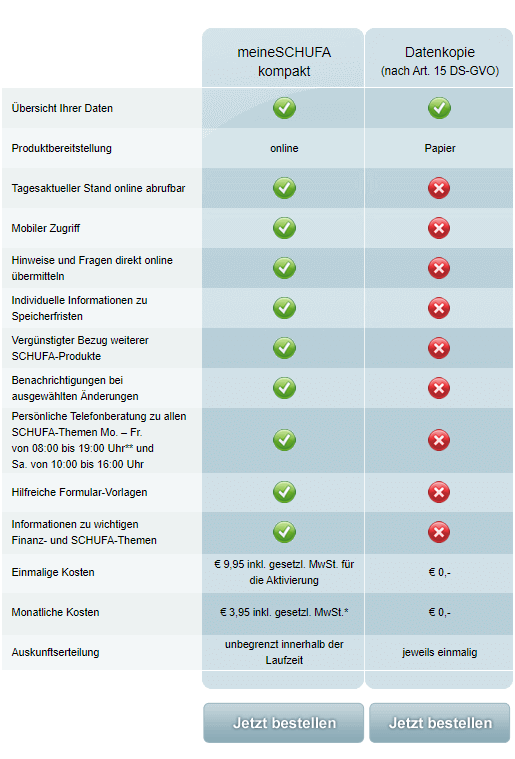 A copy of the identity card or passport + confirmation of registration is optionally required for the form. When I asked for a self-assessment, Schufa explicitly requested a copy of my identity card:
Corrections to the SCHUFA report often necessary
Apparently, errors in the SCHUFA information are not uncommon. In the case of my information, for example, wrong house numbers were stored in the information file. According to § 33ff. BDSG, consumers can report this to SCHUFA. The data concerned will be blocked until clarification.
If the SCHUFA check shows that the information is incorrect, it will be corrected. It is therefore advisable to request a SCHUFA self-assessment at regular intervals. In particular, you should do this if you are having trouble opening a new one checking account or when requesting one installment loan have. It may be due to incorrect SCHUFA information.
A SCHUFA ombudsman can be called in to settle disputes when incorrect data is deleted. This is required, for example, if a bank does not release incorrect information in the Schufa information file for deletion. You can find more information about the Schufa ombudsman here.
When will SCHUFA delete my data?
SCHUFA stores your data, in some cases for several years. Information about an installment loan agreement, for example, is stored for up to three years after the end of the loan agreement. To help you better assess your SCHUFA self-disclosure, here is an overview of how long SCHUFA may retain data. The data is taken from the "Rules of conduct for the verification and deletion periods of personal data by the German credit agencies".
Loans, financial aids, installment contracts or partial payments: 3 years after full repayment
Checking accounts, credit cards, telecom accounts or energy accounts: Until the account is deleted
Garnishment protection accounts or basic accounts: Until cancellation or reconversion of the account
trading accountsthat are kept as credit: 3 years after full repayment
Old addresses: 3 years; then check whether further storage is required for 3 years. Then deletion.
information about the Misuse of an Account or a card by the rightful account holder: 3 years
Information about third-party inquiries: at least for one year, at most 3 years
Personal data taken from publicly available sources: Evaluation after 3 years at the latest. If there is no longer a need for storage during the evaluation, it will be deleted after 3 years.
Can I also receive the SCHUFA report as a PDF?
The free SCHUFA report is currently only available in paper form. If you would like a PDF version of your SCHUFA report, you can request the "SCHUFA report compact" for currently 9.95 euros. You can get both the free SCHUFA report and the SCHUFA compact report at the following link
>> Apply online for SCHUFA information here <<
We are sorry that this post was not useful for you!
Let us improve this post!
Tell us how we can improve this post?