Anleger verfolgen die Nachrichten vor einem Börsencrash mit einem flauen Gefühl im Magen. Die Frage "Wann kommt der nächste Börsencrash?" steht im Raum. Denn niemand möchte innerhalb weniger Tage zahlreiche Leitindizes um über 30 Prozent oder mehr einbrechen sehen. Zudem werden Börsenkorrekturen aufgrund des schnelleren Informationsflusses ebenfalls immer schneller. Mit einem Verlust von 32 Prozent in knapp drei Wochen widerfuhr dem Dax in der Coronakrise beispielsweise der schnellste Einbruch seines Bestehens.
Trotzdem – oder gerade deshalb – bietet ein solch' schneller Börsencrash auch viele Chancen. Mit dieser Korrektur wurden viele erstklassige Unternehmen zu wahren Schnäppchen. Denn Bärenmärkte enden, wenn es nicht mehr schlimmer werden kann oder keiner es erwartet (Nein, keiner!). Daher findest du hier noch einige Vorteile eines Börsencrashs, die dich zum Durchhalten bewegen sollen!
Wann kommt der nächste Börsencrash?
Bleibt die Frage, wie der wartende Anleger den Börsencrash prognostizieren kann. Sollte man auf den Börsencrash warten? Woran erkennt man ihn? Und vor allem, wann kommt der nächste Börsencrash?
Wann kommt der nächste Börsencrash?
Die wichtigste Erkenntnis beim Börsencrash: Niemand weiß, wann der nächste Börsencrash kommt. Vielleicht kracht es schon morgen, früh oder erst in 5 oder in 15 Jahren. Trotzdem lenken dich diese Prognosen beim langfristigen Investieren durch gesäte Zweifel ab. Deshalb sind, Prognosen über die Frage wann der Crash kommt kontraproduktiv.
Wann der nächste Börsencrash spielt eigentlich keine Rolle
Zudem ist es ebenfalls nicht sinnvoll, mit dem Investieren an den Finanzmärkten bis nach dem nächsten Einbruch zu warten. Denn die Wahrscheinlichkeit, in der Wartezeit hohe Gewinne zu verpassen, ist viel zu groß.
Trotzdem profitieren
Aber wie übersteht man einen Crash ohne schwere finanzielle Blessuren? Die wichtigste Eigenschaft ist Durchhaltevermögen, an das mit den weiter oben beschriebenen Vorteilen appelliert werden soll! Wenn du über zehn Jahre oder länger anlegst, verringert das die Gefahr wirklicher Verluste enorm. Beispielsweise hat der S&P500 seit 1928 in mehr als NEUN VON ZEHN Zehnjahresperioden einen Gewinn eingefahren.
Aber auch ein Aktiensparplan hilft. Wenn du monatlich einen bestimmten Betrag an den Börsen investiert, steigst du niemals nur nahe dem Höchstpunkt ein. So schlagen mögliche Verluste bei einem Crash daher nicht voll auf das Brokerage account through.
Was ebenfalls hilft, ist diversification. Denn nur wer diversifiziert, reduziert massiv die Risiken. Zudem musst du durch Diversifikation nicht auf Rendite verzichten. Dank der einfachen Verfügbarkeit von ETF auf große Aktienindizes lassen sich auch kleinere Vermögen sehr gut diversifizierte Portfolios erstellen.
Die Vorteile des Börsencrashs – Weil die Frage "Wann kommt der nächste Börsencrash?" nicht beantwortbar ist
Advantage #1: More humility
Geld zu verlieren, demütigt uns alle schnell. Kursgewinne sind vergänglich und wir sollten lernen, damit umzugehen. Die Krise bietet uns die Chance, uns in mehr Demut zu üben. Wir können lernen dankbar für die Dinge, die wir haben zu sein und lernen sie mehr zu schätzen. Wer demütig auf Niederlagen reagiert, zeigt damit, dass er sich nicht unterkriegen lässt.
Vorteil #2: Zeit die Cashreserven im Markt anzulegen, wenn die Frage"Wann kommt der nächste Börsencrash?" nicht nur von Crashpropheten diskutiert wird
Eine Börsenkorrektur erleichtert es dir, dein Geld in Aktien anzulegen. Gerade für langfristig orientierte Anleger, die sich noch ziemlich am Anfang des Depotaufbaus befinden, kann eine handfeste Krise, eine gute Chance sein, das Depot weiter günstig aufzustocken.
When shares in quality companies correct significantly above their fair value, good opportunities often arise! In the long run, it pays off to buy something cheaper now. It is advisable to shoot your powder step by step and not to rush into anything. After all, nobody knows how long the corona crisis will last.
Es wäre also ein Fehler, jetzt den Börsen fernzubleiben. Ebenso wäre es aber ein Fehler, übereifrige Hamsterkäufe zu tätigen. Bleibe vorsichtig und kritisch!
Advantage #3: Become more realistic
Wenn alles gut läuft, neigen wir dazu, unsere Risikotoleranz zu vergessen. Regelmäßig schätzen Anleger Ihre Risikotoleranz höher ein als sie tatsächlich ist (Quelle: Handelsblatt). Wenn der Markt dann korrigiert, merken wir erst wie schmerzvoll sich der Verlust anfühlt.
We also tend to pay more attention to our money when times are tough. Our attention to money is often driven by fear because we fear losing everything.
By aligning our investments with our risk tolerance and financial goals, we can better achieve our goals. The pain forces us to be more realistic about our true risk tolerance.
Vorteil #4: Aufgrund des Börsencrashs kannst du versuchen, weniger besessen von Geld zu sein
Durch den Verlust eines größeren Geldbetrages neigen Menschen dazu, mehr von den Dingen zu schätzen, die Sie bislang aufgrund Geld vernachlässigt haben. Fühlt es sich sinnlos an für Geld morgens aufzustehen und zur Arbeit zu gehen, lernst du vielleicht deinen Partner/Partnerin, Freunde, Familie oder Verwandte wieder mehr schätzen. Durch den Verlust etwas Wichtigem klammerst du dich mehr an Sachen, die dir noch bleiben. Durch die um sich greifende Corona Epidemie und die mediale Berichterstattung wird der Effekt noch verstärkt. Wir alle wollen wissen, dass es unseren Liebsten gut geht. Daher rufen wir Sie häufiger an und treten so ganz automatischer näher und enger in Kontakt mit Ihnen.
Vorteil #5: Rabattschlachten gibt es nicht nur an der Börse
If the stock markets collapse, sooner or later the consequences will also be visible in the consumer world. Discounts you for the Buying a new car get, gain. Flight and train tickets are also becoming cheaper. If the crisis persists, influences on the real estate market are also conceivable. People who feel poorer simply spend less. If you are financially secure, you can use these discounts to your advantage.
Vorteil #6 keine Überlastung der Infrastruktur
Viele Bereiche der deutschen Infrastruktur sind überlastet. Staus auf Autobahnen, nicht renovierte Brücken, schleppender Breitbandausbau. Eine Krise bietet dem Staat die Möglichkeit, die Infrastruktur zu reparieren. Damit kann zum einen die Beschäftigung gesichert werden, zum anderen steht der Bevölkerung nach Erholung der Wirtschaft eine verbesserte Infrastruktur zur Verfügung. Eine Win-win-Situation.
Vorteil #7: Die Zinsen werden weiter gesenkt – Nutze die Chance für Refinanzierungen
Auch die Notenbanken blicken mit zunehmender Beunruhigung auf die Wirtschaftsentwicklung in der Crash Zeiten. Als die Märkte Ende Februar 2020 die schlimmste Börsenwoche seit Jahren erlebt hatten, begann die Fed in großem Maßstab Geld "zu drucken", um die Wirtschaft zu stützen. Auch Deutschland sagten damals der Wirtschaft umfassende Hilfe zu. So gab es KfW-Kredite kurzzeitig ohne Limitierung geben.
Vorteil #8: Vermögen passen sich an, wenn die Big Boys bei der Frage "Wann kommt der nächste Börsencrash?" falsch lagenhaben
As in all other industrialized countries, German wealth is very unequally distributed. While the wealthiest top 10 % households have net assets of around half a million euros, the poorest 10 % households have no assets at all. Since wealthy households in particular own securities, the correction will lead to a narrowing of the wealth gap. As a result, the poorer ones do not receive more money, but the distribution is somewhat more even.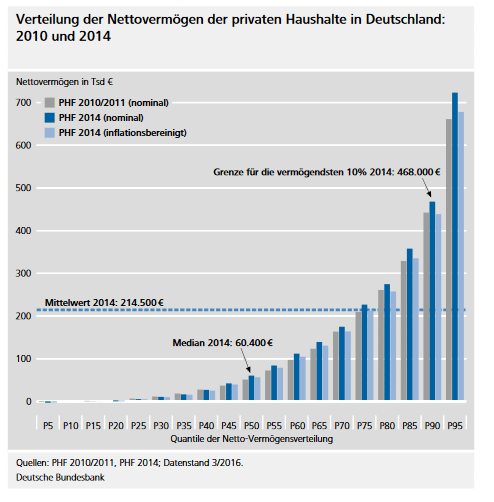 Fazit: Börsencrashs sind eine große Chance – ob man die Frage "Wann kommt der nächste Börsencrash?" nun richtig beantwortet hat oder nicht
Der vielleicht größte Vorteil bei einem Zusammenbruch der Aktienmärkte besteht darin, dass der überhitzte Aktienmarkt der letzten Jahre nun Gelegenheit hat sich abzukühlen und Unternehmen wieder zu Ihren langfristigen, durchschnittlichen P/E Ratios gehandelt werden. Dies ist gerade für langfristig orientierte Anleger eine große Chance, da sie jetzt Ihre Lieblingsunternehmen mit 30 Prozent Rabatt oder mehr kaufen können. Aber um dies zu tun, musst du ein Risiko eingehen und kaufen.
Wenn du ängstlich bist, die Vorteile von Börsencrashs umzusetzen, kannst du Entscheidungen an einen Robo-Advsior abgeben. Die besten Robo-Advisor, findest du in einem Ratsgeberartikel zum Robo advisor comparison.
Zum Ende nochmals das Wichtigste: Niemand weiß, wann der nächste Börsencrash kommt. Vielleicht kracht es schon morgen, früh oder erst in 5 oder in 15 Jahren. Bleib einfach dran, dann passt es – Crash oder nicht!
We are sorry that this post was not useful for you!
Let us improve this post!
Tell us how we can improve this post?