In this article I describe my experiences with the provider VisualVest.
VisualVest is a robo advisor founded in 2015 by the Union Investment Group. The company thus combines the speed and flexibility of a start-up with the expertise, security and financial strength of one of the leading fund companies in Germany. VisualVest was founded in early 2015 and offers three levels of fully automated asset management: VestFolio with ETFs, VestFolio with actively managed funds and GreenFolio, which is geared towards sustainability. It is therefore also interesting for customers who value a sustainable and socially responsible investment.
At a glance – The VisualVest brief check
Simple and fully digital asset management with just a few mouse clicks
Very many broadly diversified portfolios available from passive ETFs, actively managed or sustainable funds
Low barrier to entry: One-time investment possible from as little as 500 euros, savings plans from 25 euros per month
Full flexibility: The Money is available at any time and can be withdrawn immediately. Savings rates can be adjusted at any time.
You can set a financial goal: The provider keeps track of the destination for you and gets in touch with you
Strong partner in the background: Depot leading bank is Union Investment Bank
Why VisualVest?
How do I find the right investment strategy at Visual Vest?
Thats is quite easy. The website provides you with a simple process consisting of the following steps: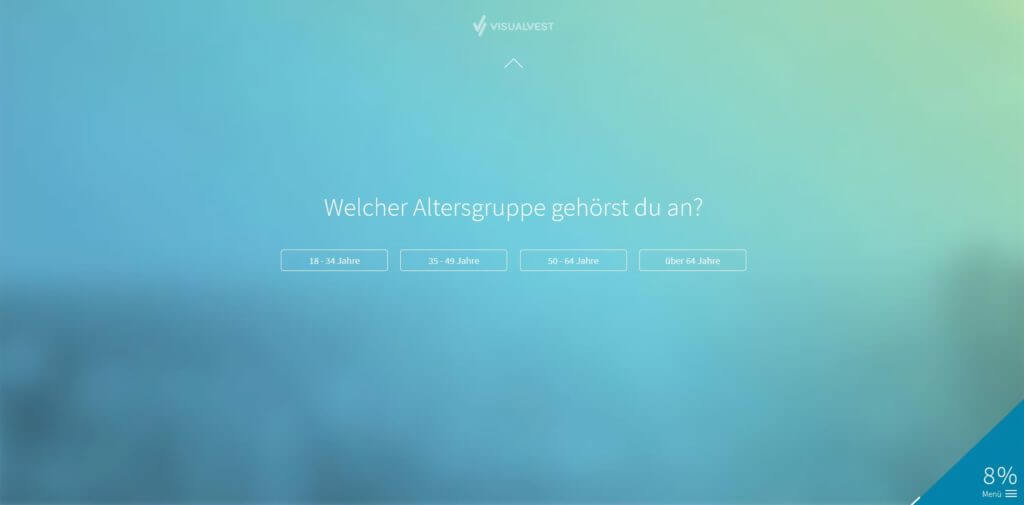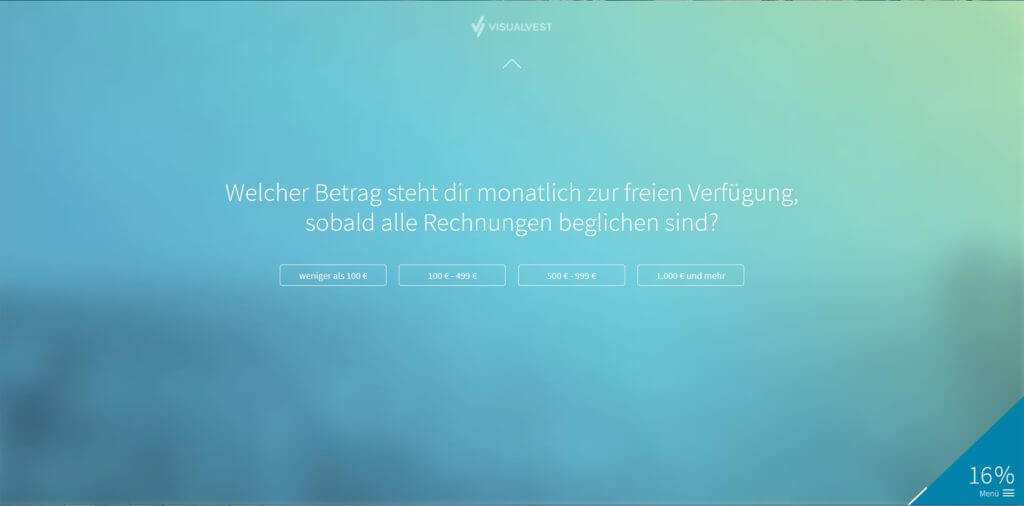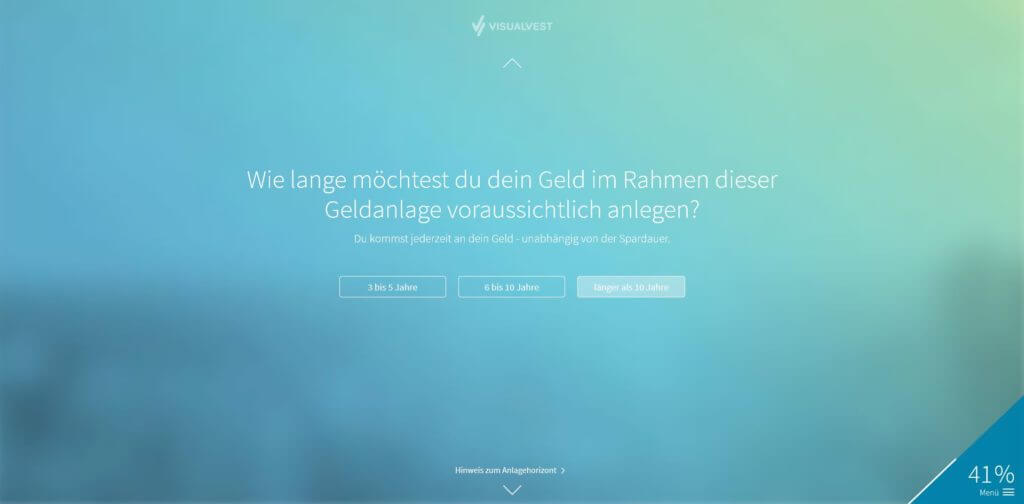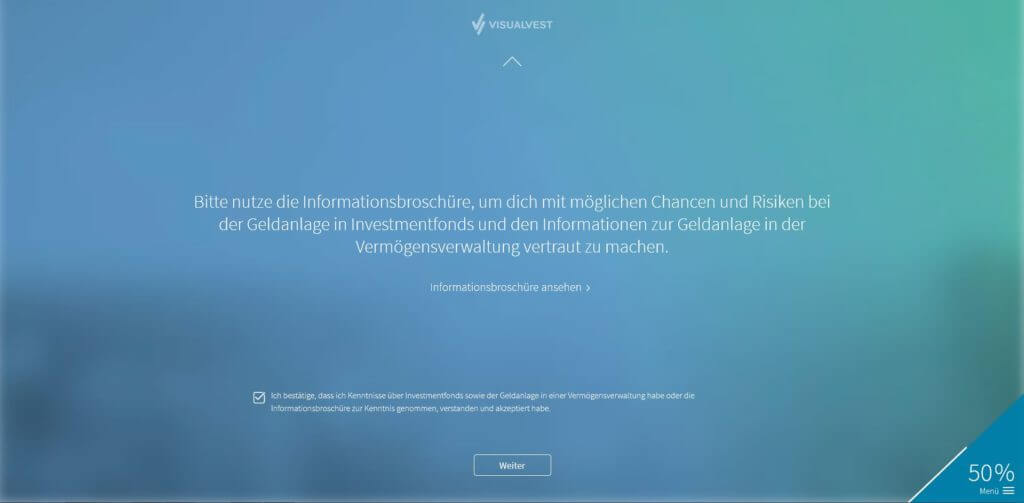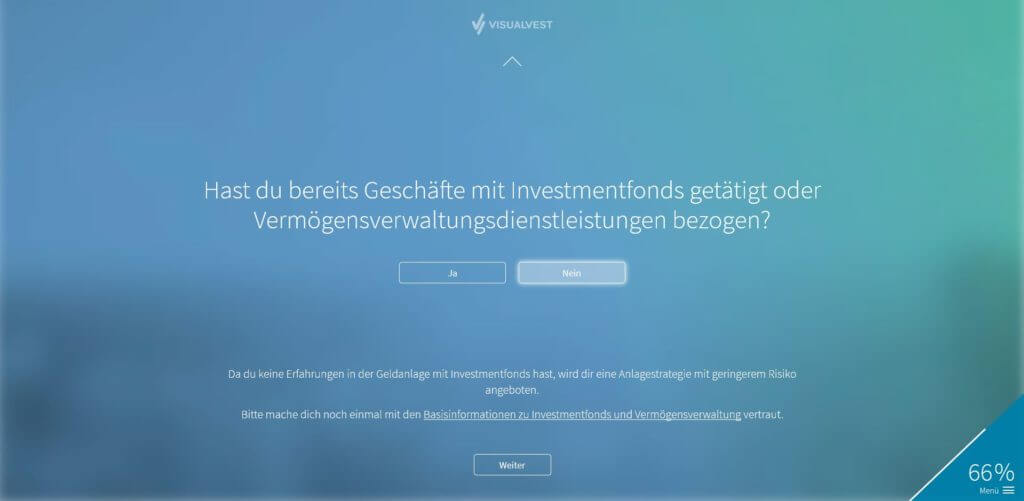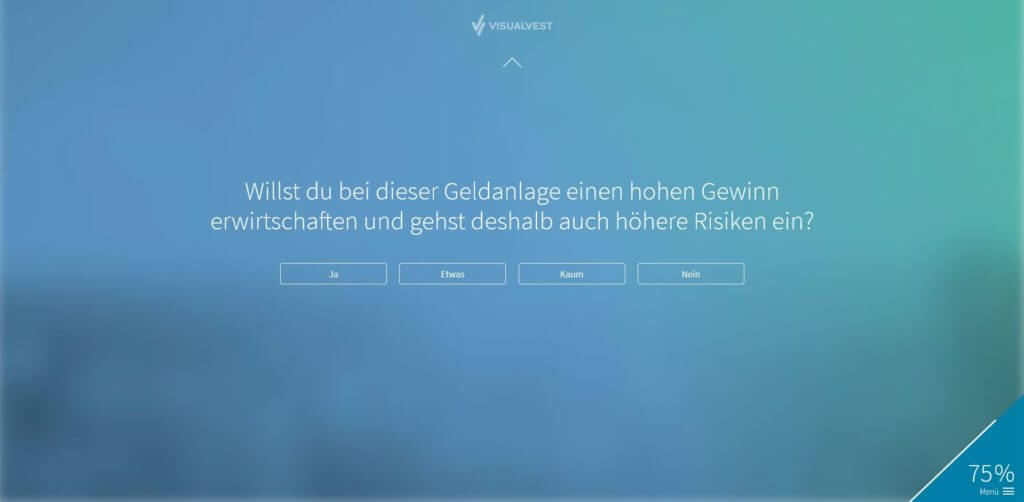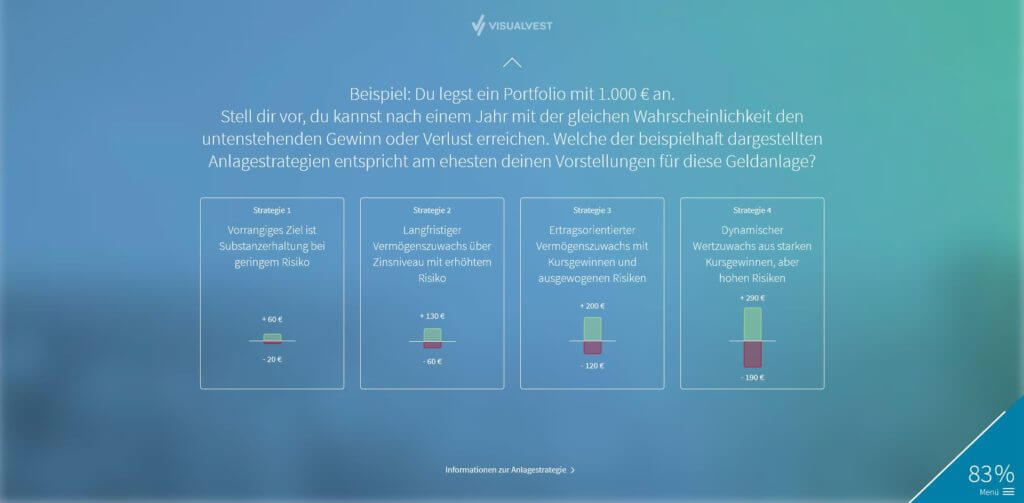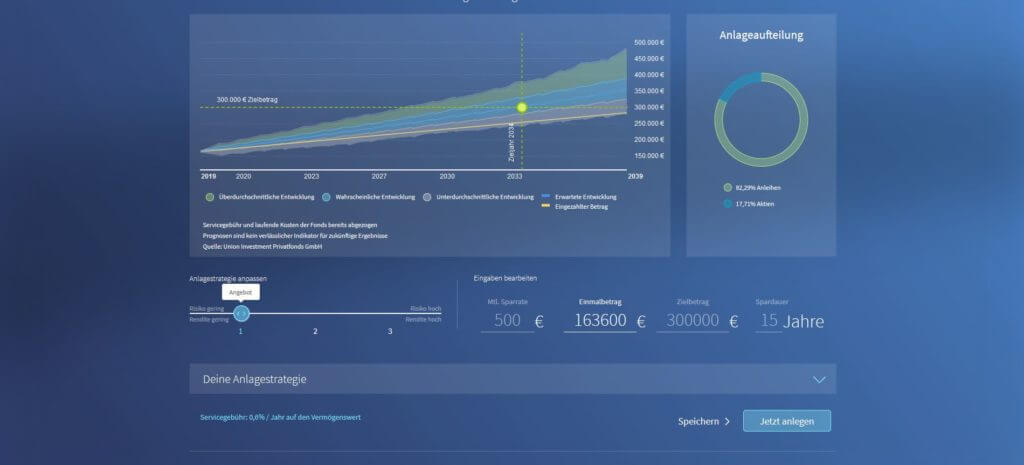 Open VestFolio or GreenFolio. Let your money work for you in the best possible and sustainable way.
Subsidiary of one of Germany's leading investment fund companies
VisualVest is a 100 percent subsidiary of Union Investment. Union Investment is one of the leading fund companies in Germany. VisualVest thus also benefits from the experience of a strong partner.
Protection against insolvency
In the event of bankruptcy, your invested money remains – you get it back in full.
deposit insurance
Of course, the statutory deposit guarantee applies to your account with Union Investment.
BaFin license
VisualVest is a financial portfolio manager regulated by the Federal Financial Supervisory Authority (BaFin). For the investor, this has the advantage that VisualVest can intervene directly in the portfolio, for example to optimize the return through reallocations. A robo advisor without a license from BaFin only uses its algorithms to make investment recommendations, which the customer then has to implement on their own.
Can a savings plan be changed at any time?
Yes. A savings plan can be set up from a minimum amount of 25 euros and can then be adjusted at any time. Savings plans can be set up monthly or for longer periods. Dynamic savings plans are also possible (with automatic increases).
Rebalancing at VisualVest
Due to price changes, rising positions in the portfolio can be over-represented while falling positions are under-represented. This effect is balanced by rebalancing so that the composition and thus the risk remain the same
VisualVest checks weekly whether rebalancing is necessary. If a position exceeds a certain threshold, the algorithm intervenes and buys or sells shares of the position. This happens fully automatically for the investor and without additional costs.
Can I cancel my account at any time?
Yes. There is no minimum term and you can close your account at any time and without giving a reason. Money can also be deposited permanently. You can also track all processes in the provider's smartphone app.
Community and minor depots at VisualVest
Community Deposits and Junior Deposits
VisualVest offers both Community Depositories as well as Junior depots for under 18s an. With the Junior securities account, the child can only carry out transactions on the account via a parent or guardian until he or she reaches the age of majority. This allows them to start saving at an early age. Another advantage of the Children's DepositoriesIf funds are not purchased via the parents' securities account but via the child's securities account, the child's securities account again has a tax allowance available to it

Which investment concept is VisualVest pursuing?
investment strategy
VisualVest is a provider that invests in both active and passive funds. The provider has many (17!!) diversified portfolios of passive ETFs, actively managed or sustainable funds available. Personally, I recommend investing in passive ETFs. Why? The SPIVA study regularly proves their superiority.
Goal-oriented and long-term savings
VisualVest actively supports your success on the stock market. To this end, the provider follows the following principles:
A long-term investment
Regular savings that cannot be forgotten through automation
A long-term strategy based on your preferencest
VisualVest offers the provider flexible savings plans to achieve these goals and supports you in achieving the financial goals you have set yourself. The algorithm also calculates how likely it is that your goal will be achieved and suggests measures to change it.
Awards Visual Vest
The provider has already received numerous awards. These include Banking Magazine, Capital, Euro am Sonntag and ETF Extra Magazin
Conclusion about the Robo Advisor VisualVest
The provider VisualVest leaves a positive overall impression. With BaFin's approval, VisualVest can relieve the customer of a lot of work and manage the system fully automatically. Furthermore, the provider offers suitable portfolios for all risk classes. With the Union Investment Group in the background, the provider has the necessary experience in the investment sector. Of particular note are the opportunities to invest in sustainable investment products in addition to passive ETFs and actively managed funds. This enables the provider to clearly distinguish itself from the masses and also to win over people who want to invest in an environmentally and socially responsible manner.
Test offer
We are sorry that this post was not useful for you!
Let us improve this post!
Tell us how we can improve this post?