Learn in DKB testwhat experiences I have had with the free DKB Cash checking account I have made. The overall package is convincing with the DKB bank test. Of the DKB cash test shows in particular that the account is ideal for travelers. After all, withdrawing cash with a credit card is free of charge worldwide. Added to this is the cooperation with the Miles & More program.
With the DKB VISA card, you can withdraw money free of charge from over 1,000,000 ATMs worldwide. In addition, the DKB is currently giving you up to 5,000 Miles & More award miles for opening a current account and other promotions. In addition, you get an interest rate of currently 0.1 % for credit on the credit card account. Withdrawing cash free of charge worldwide is possible with the DKB Cash account with a regular incoming payment of 700 euros. But even without regular incoming money, the account remains free to use – a fee is only due when withdrawing cash abroad. There is another exception: In the first year, no regular receipt of money is necessary in order to be able to withdraw DKB Cash worldwide free of charge! After all, that is also convincing DKB depot with cheap fees depot comparison.
In addition, the DKB advertises under #geldverbesserer to support sustainable projects with the credit on the current account. Investments in the energy transition have been financed since 1990. In addition, social projects serving the common good are supported. Here you can also do something for your clear conscience with your money deposit.
Test report at a glance - the DKB cash account test in bullet points
Test report DKB-Cash checking account: Is there an account management fee?
No, there is no account management fee for the DKB-Cash current account if at least €700 is received per month. Because the current account, the DKB-Cash, is a free current account - in the first year without any incoming money. Nevertheless, the DKB Cash current account could not reach the top rank of the best free current account without a minimum entry. Rivals are, for example, the account of Comdirect Bank or the current account of N26 – Read why here.
Test report DKB-Cash current account - free of charge cash? Is a regular receipt of money necessary at DKB?
In Germany, the euro zone and all countries worldwide you can get cash free of charge with the free Visa card. The withdrawal is possible at all machines with the VISA symbol. This applies to all customers in the first year without restriction. After one year, customers get the status active customer cash at all Visa machines in all countries of the world free of charge. In order to maintain the status of an active customer, a monthly payment of at least 700 euros is required for the DKB account.
Even if you are no longer an active customer, you can withdraw amounts in euros from ATMs in the euro area free of charge after the first year. Foreign currency withdrawals incur a fee of 1.75 % of the withdrawn funds.
Please also note the following: In some cases, individual fees are charged by the ATM operator. These cannot be influenced by the DKB. These fees will not be reimbursed by the DKB.
In order to maintain the status of an active customer, a monthly payment of at least 700 euros is required for the DKB account
To offer:
DKB.de
Deposit cash at the DKB
Depositing cash into your DKB cash is very easy: you can deposit up to 999.99 euros in 11,000 partner shops every day. Simply show the code generated by the app at the checkout and hand over the cash. You will be acknowledged for the process. Otherwise, the branches of the DKB are of course also available for the deposit of small and large amounts.

Test report DKB-Cash: Google Pay/Apple Pay integration
DKB Cash now also supports the Google Pay and Apple Pay app. Cashless payment is even faster with Google Pay/Apple Pay and the DKB Cash Visa card (credit card). Because the Visa card no longer has to be dug out of the wallet. After all, all you have to do is pull out your smartphone. This allows you to pay in seconds via smartphone app. You can pay at any contactless terminal. If the amount is less than 25 euros, it is sufficient to switch on the smartphone display. For amounts over 25 euros, however, the release must be done by password or fingerprint.
Giro and credit card in the DKB cash test report
The Girocard of your DKB cash is provided by the V PAY card and Maestro card. As usual, transactions in euros are free with the Girocard. In the non-euro area, it is best to use your free credit card from the account. The Girocard only works in euro countries. You can get cash worldwide (also within Germany) free of charge with the already included free credit card of the account.
Overall, the following picture emerges for the use of the Girocard and credit card

If the credit card is accepted, it is advisable to use it consistently at home and abroad. In case of doubt, there are fewer fees (e.g. at third-party banks). In addition, the acceptance is higher (non-euro countries)
DKB-Cash: Your account as a traveller!
In my opinion, the DKB cash account is ideal for holidaymakers and travelers. When traveling to distant countries, the hassle-free and inexpensive supply of cash is essential. Furthermore, paying in foreign currency with low fees is another important point for globetrotters. Read more about the test-winning account in the category For travelers and vacationers here.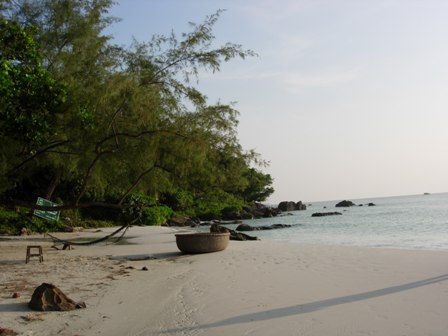 Miles & More bonus: As a further advantage for frequent travelers, there is the possibility of receiving a credit of 5,000 miles when opening an account and moving various services. For example, 5,000 miles are booked each time you open an account, receive your first salary and save the account as a billing account for the Lufthansa Miles & More Credit Card. In addition, there are 5,000 award miles for each recommendation. In total, you can earn 15,000 to 20,000 award miles relatively easily.
Taking good deals into account, you can get a value of more than 2 cents from one bonus mile. get out. At least within Europe, using miles is only worthwhile for flights of around €250 or more. The savings tend to be greater the more exclusive the ticket booked and if there is the possibility of using last-minute offers. So be sure to research the deals before booking so that it's really worth it in the end.
With clever use of the mileage bonus from the DKB cash account, this extra alone is worth between over €300 for frequent travelers!
Recommendation: As the best free account for travelers and vacationers or people who travel a lot, I currently can DKB Cash current account recommend. After all, the DKB has been offering free payment DKB worldwide for many years. Likewise, free money withdrawals worldwide. Unfortunately, these advantages are now only available as active customer. After all, everyone is automatically an active customer in the first year. After that, at least 700 euros in cash per month are required to receive the status.
By paying/withdrawing money with a credit card, you get a very good conversion rate to the euro. You don't have to pay a fee hidden in the conversion rate. Unfortunately, this is common when exchanging cash.
DKB Cash Test: Sustainable and social criteria met
Invest money and do good: Sustainability and social action are a current trend that most would be only too happy to join - especially if there are no disadvantages. Most conventional banks have a bad image in this regard, and some rightly so. In the case of social and ecological banks, many services – including basic services such as account management – are subject to a fee. Is sustainability, ecological and social action important to you, but you don't want to spend any additional money on it? Then the DKB Cash account offers an alternative in our test.
We would therefore like to explain to you here what the DKB promises with its DKB Cash account in terms of sustainability, social criteria and ecological action with #geldverbesserer. Ever since it was founded in 1990, renewable energies such as solar, wind energy and biogas have been financed. In the direction of environmental protection, energy-efficient construction and the renovation of municipal buildings are also supported.
Investments at the DKB via the DKB cash account are used to finance family and senior-friendly housing, health, care, education and research facilities and local public transport projects in the social area.
The DKB Bank, as the issuer of the DKB Cash account, also presents itself as a fair employer that promotes equal opportunities and diversity, offers further training and health management and enables the compatibility of work and family.
Some may also find it important what is not financed or supported with the money deposited in the DKB Cash account. In the area of good governance and business conduct, DKB promises not to engage in investment banking, offshore banking, speculative trading, short selling, and not to encourage tax evasion or tax avoidance.
In the account test, it was also convincing that the DKB excludes transactions with entire sectors and areas that earn their money in dubious ways. The financing of nuclear power plants, armaments, pornography, prostitution and drug trafficking are excluded. That any violations of human rights are not financed should actually be a matter of course.
Overall, the DKB Bank and thus also the DKB Cash account can convince with their advertising for a sustainable, social and ecological orientation of their business.
DKB cash account test: conditions at a glance
| Account tip | basic price | cash receipt | Interest charges | Free credit card | banking | overdraft facility | overdraft | Free cash | bonus |
| --- | --- | --- | --- | --- | --- | --- | --- | --- | --- |
| | 0 € | free of charge even without receipt of money | 0,2 % | free Visa card | 0 € | 6,9 % | 6,9 % | yes, worldwide with Visa card | Without a bonus |
To offer:
DKB.de
DKB: Regular receipt of money of 700 euros necessary so that everything remains free of charge
At the DKB, a regular payment of 700 euros is required. At least if you want to withdraw cash worldwide for free. You can find more here Checking accounts without a minimum deposit.
The DKB cash account not only convinces in the test on Konto-Kredit-Vergleich.de...
The test shows: The DKB Cash account is convincing. Accordingly, the DKB account received two awards in 2018.
In the Focus Money 11/2019 test report, the DKB emerged as the test winner in the current account test and
the DKB was rated by the Handelsblatt as the best salary account with a free credit card
DKB cash account test: What alternatives are there to the DKB
No account test is complete without listing alternatives. Because every good product always has alternatives.
Alternative 1: If free cash withdrawals worldwide are important to you, this is an alternative N26 account under consideration. That N26 Checking account is also very good for people who travel a lot. However, it has the disadvantage that a fee is due when paying in foreign currency (1.7 %). You will be informed of any account activity immediately by email or app. This is a safety bonus especially when traveling. To a certain extent, the decision remains a matter of taste. You can't go wrong with either account!
Offerer:
N26.de
Review:
N26

Alternative 2: Another alternative is this comdirect account Because you can also withdraw cash worldwide free of charge from comdirect. However, a small drop of bitterness with the comdirect account is the fees incurred when paying in foreign currency. On the other hand, withdrawals from comdirect are also free worldwide. In return, comdirect is currently awarding attractive opening bonuses! Have a look in the Test report by comdirect.
Offerer:
comdirect.de
Review:
comdirect
Alternatively, you can also compare yourself! see you in comparison calculator more accounts. Many of the free checking accounts have no minimum deposit required!
Conclusion to the DKB-Cash test report
liked that
In the test report, the DKB-Cash current account scores with completely free account management without any further conditions, such as regular salary payments. Furthermore, the account offers attractive credit interest and at the same time a very low overdraft facility! The account is great for frequent travelers. It is the only account in the test that offers free payment worldwide, also in foreign currencies, and excellent cash availability (also worldwide & free).
Incidentally, the DKB also offers a very good depot. In 2020, you can buy the popular Vanguard ETFs in the savings plan for EUR 0.49. There are many other savings plans for 1.50 euros, which is also quite cheap. in the depot comparison you will find all the information. The DKB Cash checking account in connection with the depot is therefore ideal for people who want to have everything from a single source.
We also liked the fact that the account can be opened quickly and easily using video identification.
I had already opened my first checking account at the DKB in 2010. The worldwide availability of cash free of charge was unique at the time and the DKB is able to maintain this model to this day.
Didn't like that so much
In my opinion, the really excellent DKB-Cash account has only one downside compared to other current accounts like that comdirect or the 1822direct: The DKB does not offer an opening bonus for the account.
Overall, the DKB awarded 4 out of 5 stars in the test report. There is a point deduction for the really excellent account due to the lack of an opening bonus. As an alternative to the DKB, I recommend the free current accounts of the comdirect or the N26. However, both have the disadvantage of charging fees for paying in foreign currencies (but not for withdrawing them). In return, comdirect scores with an attractive opening bonus and the N26 with modern smartphone banking.
Another good alternative for frequent travelers is the free checking account Santander bank.
How did you like the test report on the DKB current account? What is your experience with the account? Write a comment and let the community know!
We are sorry that this post was not useful for you!
Let us improve this post!
Tell us how we can improve this post?