In the following test report, you can read about my experiences with the free smartphone. checking account 1822mobile. How reputable is the bank and what does it offer?
With the 1822 Mobile, the N26 (Review N26, To the N26 Bank) has now had a serious rival since 2017. 1822direkt is the direct bank of the Frankfurter Sparkasse. This gives it a special role among the otherwise regionally operating savings banks. This is definitely noticeable in a positive way for customers: 1822direkt's fee structure is significantly more favorable than that of the local savings bank.
1822 mobile Girokonto Conditions at a glance
Account tip
basic price
Minimum deposit
Interest charges
Free credit card
overdraft facility
Free cash
bonus
Offerer





Base price: From 0,01 €/ month: 0 €,
Otherwise: 1,90 € monthly
Minimum deposit:0,01 €
Interest charges: 0,00 %
Credit card: free Mastercard
Dispo: 7,17 %
Free cash: Yes
Big Bonus!
To the provider:
1822.com

At a glance – The 1822mobile quick check
Smartphone offshoot of 1822direkt – the direct bank of Frankfurter Sparkasse (Test report 1822direct, Link to 1822 directly)
Operation exclusively via app. Fingerprint login possible.
Free account management even without a monthly payment
Free giro card (savings bank card)
Google Pay integration announced
To offer:
1822mobile.de
1822mobile checking account: is there an account management fee?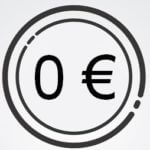 The Girokonto of 1822mobile is another unconditionally free Girokonto. Since 2017, it has been facing the app-based account from the orientation of the N26 current account against.
1822mobile checking account – Withdraw cash free of charge – WORLDWIDE
In Germany you can withdraw money from all Sparkasse ATMs free of charge. Use the Sparkasse card for this
Outside of Germany: Cash withdrawals with a credit card outside of Germany are free of charge worldwide*
Make sure you use the right card. Use the credit card abroad, the Sparkasse card in Germany. With 2 %, at least 5.11 euros, there are high fees for cash withdrawals in Germany when using the credit card in Germany! If the Sparkasse card is used outside of the Sparkasse network, there is a fee of 1 %, at least 6 euros. These fees are completely avoidable by using the right card!
*Please note the following: In some cases, individual fees are charged by the ATM operator. These cannot be directly influenced by the 1822. These fees will not be reimbursed by 182 2direct.
To offer:
1822mobile.de
Worldwide cash withdrawals with the Girocard or credit card - table overview
Sparkasse card
Credit card
Germany
for free
2.00% of sales,
at least 5.11 euros
Europe (in euro currency,
without Germany)
1.00% of turnover,
at least 6.00 euros
for free
world (foreign currency)
1.00% of turnover,
at least 6.00 euros
1.75% of sales
Deposit cash at 1822mobile
This is free of charge at all machines or at the Frankfurter Sparkasse counter. You can also deposit at the deposit machines of other savings banks. However, you count as a foreign customer and have to pay a fee.

Saving foxes proceed as follows: Withdraw cash domestically -> Savings Bank card (in the Savings Bank ATM network) Withdraw cash abroad in euros -> Credit card
Unfortunately, the credit card is not available free of charge, but is currently available for 29.90 euros per year. Exception: Customers under the age of 27 receive the Credit card free of charge.
Pay with the 1822mobile account
Payment is completely free in the euro area. When paying in foreign currency, a fee of 1.75 % of the turnover is incurred.
1822mobile: Google Pay/Apple Pay integration
The 1822 mobile does not currently support the mobile payment service Apple Pay or Google Pay. However, integration of the Google Pay service is planned by the end of March/beginning of April 2019 ("spring 2019"). Apple Pay is also planned, but there is no concrete date for this yet. The N26 supports both services. A clear punk for the N26 account.

Google Pay/Apple Pay and the credit card make cashless payments even faster. You no longer have to dig your card out of your wallet. Just pull out your smartphone and you can pay in seconds using the smartphone app. You can pay at any contactless terminal. If the amount is less than 25 euros, all you have to do is switch on the smartphone display. For amounts over 25 euros, the release must be made by password or fingerprint.
Alternatives to the 1822mobile account
Didn't the 1822mobile account convince you? Then check out the comparison calculator other accounts on. A rating of the best free checking accounts without minimum deposit can be found in the linked article.
Alternatives 1822 mobile account
If you're into smartphone banking, the real alternative comes in the form of the N26 account under consideration. That N26 Girokonto is also very suitable for people who travel a lot. Unlike the 1822mobile account, it supports an integration of modern payment services like Google Pay and Apple Pay. When paying in foreign currency, N26 charges a fee of 1.7 %. With the 1822mobile account, it is a comparable 1.75 %. However, it has the disadvantage that a fee is due when paying in foreign currency (1.7 %). If you want to make free payments and withdrawals worldwide, you can't avoid the DKB account. It has been established in this segment for many years.
In the same league plays the free Account from o2 banking. It offers the emergency money call as a special feature.
Conclusion
liked that
The 1822mobile current account scores with completely free account management without a minimum deposit. The Best Choice voucher when registering was also convincing.
Finally, I liked the fact that the account opening can be done quickly and easily via videoident.
Didn't like that so much
What was less pleasant was that the payment services Google Pay and Apple Pay are not yet supported. The N26 account is further here. Furthermore, the bank does not offer a free credit card.
Overall I give the account 4 out of 5 stars. There is a point deduction for the missing free credit card to be able to withdraw cash free of charge worldwide. I give the account another point deduction due to the lack of support for Apple Pay and Google Pay. The account can make up for this with the 25 Euro Best Choice voucher. All in all, this results in 4 out of 5 points. In a direct comparison I draw the account of N26 current account however before.
We are sorry that this post was not useful for you!
Let us improve this post!
Tell us how we can improve this post?