If you want to trade stocks or crypto, you can use the Expertise or the time for research is missingYou can still make money with copy trading. Through copy trading, you use the knowledge of experts and simply skim off their returns. The earnings are 5-40 % of the invested capital per year. The average annual profit of the 50 most copied traders for 2021 was 30.4 % on eToro.
Copy trading is an innovative way to profit and earn money from the stock market without any prior knowledge. Copy trading allows you to automatically copy positions opened and managed by an experienced trader. In doing so, your two accounts are linked via software. Thus, every trading action is automatically copied. You can choose the trader based on his past performance. This way, even less experienced traders can benefit from the trading decisions of successful investors and earn money with copy trading.
Recommended provider for aspiring copy traders

Copy the best traders on the platform
Average annual profit of the 50 most copied traders for 2021: 30.4 %

✓ Top traders work for you - without management fees
✓ Lively community
✓ Free Demo Account

4.3 stars on Trustpilot from over 17,950 reviews
To the provider:
etoro.com
How does Copy Trading work?
Copy trading is an investment strategy in which investors copy the trades of experienced and successful traders in order to make profitable trades themselves. In this way, investors can benefit from the expertise and success of experienced traders without having to have the same knowledge or experience themselves. In doing so, investors trade with their own money, and therefore also bear the risk of losing money.
How safe is Copy Trading?
There are also risks when copying the trades of another trader. Therefore, it is recommended to diversify your capital by copying different traders and their trading behavior. This can help spread the risk and improve the overall performance of your money investment. Even if you follow experienced traders, you are ultimately responsible for the success or failure of the investment.
Is Copy Trading beginner friendly?
As a beginner, it is important that you do not rush into your investments and make high-risk decisions without the necessary prior knowledge. With copy trading, you can reduce your risk of losing money through ignorance by leaving the selection of stocks to the professionals. You, on the other hand, simply copy the best traders automatically.
Copy trading is therefore a good way to increase your chances of earning maximize. At the same time, you are not the one who has to make the tricky and risky decisions on the stock market. Because copy traders have simply outsourced this task, so to speak.
Copy trading is thus an interesting way to profit from the stock market without having to spend years building up expertise in the field.
Make money with copy trading: It does not work without risk
Of course, copy trading is also subject to a certain risk. Because even the best experts can not always correctly predict the developments on the markets and make wrong decisions. In addition, you need a much longer investment horizon than these WiWo reporterwho tried to make money in a few days with copy trading. This does not work. To make money with copy trading, you need an investment horizon of several years.
Make money with copy trading: Diversify risks away
However, if you minimize your risk through diversification, you can use copy trading to automate Earn money. Since you do not have to be active yourself and hardly need any previous knowledge to start, copy trading is well suited to start earning money today. The only prerequisite is a few hundred euros starting capital, which you do not need to survive. Because losses are unfortunately always equally possible with high chances of profit. However, the risks can be diversified away to a large extent.
Make money with copy trading: Follow the best traders on the platform
You decide yourself which investors you follow. A software takes over the processing of the trades in the background. The software ensures that you always buy or sell when the copied trader trades.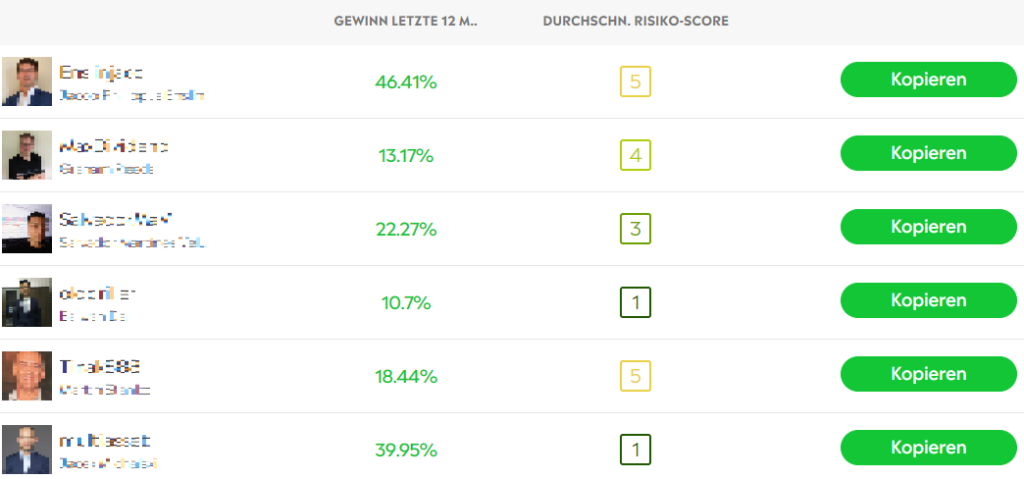 Once you have selected the traders you want to follow, you can almost automatically generate income through the Trader software. In addition, reputable portals allow you to find out exactly about the different investors and their previous successes as well as their risk profile. This way you can easily control your chances of winning and scale them upwards.
Earn money with Copy Trading: Opportunities and risks with Copy Trading
Make money with copy trading: Opportunities
You can invest like the best traders on the platform without needing their expertise
You can copy traders according to your risk tolerance
If you copy several traders, you reduce your risk of putting too much money on "the wrong" one
You can work from anywhere
The requirements are easily met
Make money with Copy Trading: Risks
General risk of loss on the capital market
Control over capital is not yours and you bear the risk of not choosing the right trader
Too short a time horizon: success with copy trading takes time and does not happen overnight
Focus on returns alone: High opportunities for returns always go hand in hand with higher risk of losses
How good is copy trading for making money fast?
Copy trading is one of the best and most lucrative ways to start making money today. If you are still inexperienced in the capital market, it is advisable not only to look at the returns, but to always keep the risks in mind. Therefore, inform yourself comprehensively about the traders you want to copy and play it safe at the beginning. It was a good idea to choose a trader with a long-standing and less vulnerable portfolio.
Make money with eToro: Own experience with 200 USD Copy Trading

I have put 200 USD on a conservative portfolio, which is slowly but steadily increasing in value. My copy trading experience has been good so far, and I am happy to accept the moderate performance for the stability of the portfolio.
If you're like me and want to make money with eToro, it's a really cool way to dive into the world of online trading. Here are a few steps you can follow:
Let's go! Open an account with eToro*. This is totally easy and requires only a few details from you. You are ready to go!
Let the cash register ring! Now you need to deposit money into your eToro account. There are several options: Credit card, bank transfer or e-wallets. Just choose the method that suits you best.
Take a look around! Now comes the fun part: browse eToro's community and check out the different traders. Check out their performance, their strategies and their risk profile. You can check out the detailed profiles of the traders to get an idea of their track record and trading activities.
Who should it be? Select the traders you want to copy the trades from. Look at different criteria like return, risk and trading style and filter according to your preferences. Maybe it's even smart to choose several traders to spread your risk.
Copy, baby! Once you have made your selection, you can automatically copy the trades of the selected traders. Every time one of them opens or closes a position, the same thing will happen in your account. Easy, isn't it?
Play it safe! Don't forget to keep an eye on your risk. eToro has useful tools to help you limit losses and secure profits. Set stop loss orders to limit losses and use take profit orders to lock in profits. Also pay attention to the risk ratings and do background checks on the traders you want to copy. Not all of them are reputable.
Always stay on the ball! Regularly keep an eye on the performance of your copied traders. Check their trades and adjust your copy trading strategy if necessary.
However, making money with eToro works not automatically overnight. You should have an investment horizon of several years. Moreover, copy trading involves risks, and traders who are successful today will not necessarily be so in the future. So get smart, learn about the markets and strategies, and consider your decisions carefully.
Pay attention to the performance and the risk class of the traders in the ranking list. From this you copy the best traders (by looking at return AND risk) and thus secure the chance of continuously bubbling profits.
How can I get started with Copy Trading?
The provider eToro* makes it especially easy for you to get started. You can start trading directly with eToro. Opening a deposit only takes 3 minutes and the provider, which has been established on the market since 2007, already has more than 20 million users worldwide.
Risk note: 79 % of retail investor accounts lose money when trading CFDs with eToro.

If you are still unsure whether copy trading is the right way to start making money today, you can also try out several strategies in parallel with a demo account. You will get access to the virtual portfolio after your Registration with the provider*.
Copy Trading Provider
n Germany, there are several copy trading providers that allow users to copy the trades of experienced traders and profit from their trading strategies. Here are some well-known copy trading providers in Germany:
eToro: eToro is a popular social trading platform that also offers copy trading features. Users can select successful traders and automatically copy their trades. The platform supports a wide range of financial instruments such as stocks, cryptocurrencies, ETFs and more.
ZuluTrade: ZuluTrade is another leading copy trading platform that allows users to copy the trades of professional traders. The platform provides access to various markets and financial instruments, including forex, stocks and commodities.
Ayondo: Ayondo is a social trading platform with copy trading features. Users can identify successful traders and copy their trades automatically. The platform covers various markets and offers a wide range of tradable instruments.
Wikifolio: Wikifolio is a platform where experienced traders publish their trading strategies and other users can copy these strategies. The platform allows users to invest in certificates that reflect the traders' performance.
NAGA: NAGA is a social trading platform that also offers copy trading features. Users can find successful traders and copy their trades automatically. The platform supports various markets and allows trading stocks, cryptocurrencies, forex and more.
Alternative ways to earn money
Alternative ways to earn money you can find in the article earn money today and Double money in one month. Among the most attractive ways to earn money in this regard is the affiliate marketing. But also with the Trading you can make money on your own. In contrast to copy trading, you have to deal much more with the markets and their movements. Provided you have a car, there are also many ways to earn money with it. There are significantly more options than driving for ride services like Uber, which are highlighted in the article.
We are sorry that this post was not useful for you!
Let us improve this post!
Tell us how we can improve this post?