Investors followed the news on the stock exchanges with a sinking feeling in the pit of their stomachs. Within a few days, numerous leading indices have collapsed by more than 30 percent. These include the S&P 500, the Dow Jones, the MSCI World, the Eurostoxx and also the DAX. In addition, stock market corrections are also becoming faster due to the faster flow of information. With a loss of 32 percent in just under three weeks, the Dax suffered the fastest slump in its existence and one can speak of a stock market crash in 2020. Despite this – or precisely because of this – such a rapid stock market crash also offers many opportunities. With this correction, many top-tier companies became bargains. As the saying goes, bear markets end when they can't get any worse. Here are 10 benefits of a stock market crash in 2020.
The benefits of the 2020 stock market crash
Advantage #1: More humility
Losing money humiliates us all quickly. Price gains are temporary and we should learn to deal with them. The crisis offers us the chance to practice more humility. We can learn to be thankful for the things we have and learn to appreciate them more. Responding humbly to defeat shows that you won't let yourself down.
Advantage #2: Time to invest the cash reserves in the market
A stock market correction makes it easier for you to invest your money in stocks. Especially for long-term oriented investors who are still at the beginning of building up a portfolio, a serious crisis can be a good opportunity to increase the portfolio further at a reasonable price.
When shares in quality companies correct significantly above their fair value, good opportunities often arise! In the long run, it pays off to buy something cheaper now. It is advisable to shoot your powder step by step and not to rush into anything. After all, nobody knows how long the corona crisis will last.
So it would be a mistake to stay away from the stock markets now. It would also be a mistake to make overzealous hamster purchases. Be careful and critical!
Advantage #3: Become more realistic
When things are going well, we tend to forget our risk tolerance. Investors regularly estimate their risk tolerance to be higher than it actually is. (Source: Handelsblatt) Only when the market corrects do we realize how painful the loss feels.
We also tend to pay more attention to our money when times are tough. Our attention to money is often driven by fear because we fear losing everything.
By aligning our investments with our risk tolerance and financial goals, we can better achieve our goals. The pain forces us to be more realistic about our true risk tolerance.
If you don't know your risk tolerance, you can quirion* do a simple test.
Follow this link and then click on the button "Invest now and secure a return ->".
This is followed by a questionnaire of around 10 questions and an assessment of your risk tolerance. if you via the link* register with Quirion, you will also receive 50 euros starting credit for a free managed ETF portfolio. I've done the test myself several times and think it's done well. At the end you will get a good indication of your risk profile. You will also receive a free investment recommendation in PDF format. By the way, you don't have to create anything if you're still unsure.
Advantage #4: Being less obsessed with money due to the Corona crash
Losing a large amount of money tends to make people value more of the things that money has previously neglected them to do. If it feels pointless to get up in the morning and go to work for money, you may learn to value your partner, friends, family or relatives more again. Losing something important makes you cling more to things you have left. The effect is intensified by the spread of the corona epidemic and the media coverage. We all want to know that our loved ones are okay. That's why we call you more often and get in closer and closer contact with you more automatically.
Advantage #5: Discount battles not only on the stock exchange
If the stock markets collapse, sooner or later the consequences will also be visible in the consumer world. Discounts you for the Buying a new car get, gain. Flight and train tickets are also becoming cheaper. If the crisis persists, influences on the real estate market are also conceivable. People who feel poorer simply spend less. If you are financially secure, you can use these discounts to your advantage.
>>Verwandt: Auto bar kaufen finanzieren oder leasen? <<
Advantage #6 No infrastructure overload
Many areas of the German infrastructure are overloaded. Traffic jams on freeways, unrenovated bridges, sluggish broadband expansion. A crisis offers the state the opportunity to repair the infrastructure. On the one hand, this can secure employment and, on the other hand, the population will have an improved infrastructure at their disposal once the economy has recovered. A win-win situation.
Advantage #7: Interest rates are further reduced - use the opportunity for refinancing
The central banks are also looking at the economic development in the Corona epidemic with increasing concern. As markets endured their worst trading week in years in late February, the Fed said in a statement it would use its tools and respond appropriately to support the economy. The Fed rate decision will take place on March 18th. In Germany, too, Ministers Olaf Scholz and Peter Altmaier have promised the economy comprehensive help. In the future, KfW loans are to be available without limits. It can be assumed that due to these interest rate cuts as well Loans for individuals become cheaper. Also the interest for a construction financing will fall further if the central banks grant new financial injections. Through refinancing you can use this advantage for yourself!
Advantage #8: Assets adjust
As in all other industrialized countries, German wealth is very unequally distributed. While the wealthiest top 10 % households have net assets of around half a million euros, the poorest 10 % households have no assets at all. Since wealthy households in particular own securities, the correction will lead to a narrowing of the wealth gap. As a result, the poorer ones do not receive more money, but the distribution is somewhat more even.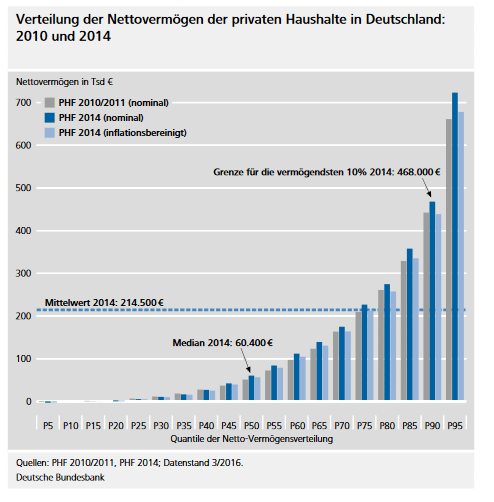 Advantage #9: Possibility to improve hygiene
Heidelberg University found that half of men and one in five women do not wash their hands with soap after going to the toilet. In addition, we all know people who come to work or university without a shower for days. When it comes to hygiene, we still have some catching up to do in Germany.
The coronavirus should remind people that washing hands and showering are important parts of hygiene. Maybe we can learn something from the crisis and at least use soap and water to wash our hands after going to the toilet.
Advantage #10: Stock market crash 2020 is a great opportunity for long-term investors
Perhaps the greatest benefit of a stock market crash is that the overheated stock market of recent years has an opportunity to cool down and companies are once again trading at their long-term average P/E ratios. This is a great opportunity for long-term investors, as they can now buy their favorite companies at 30 percent or more off. But to do this, you have to take a risk and buy.
If you don't dare, you can delegate decisions to a robo-advisor. You can find recommended robo advisors in a thoroughly researched one advice article. A robo advisor supports you in achieving your financial goals as easily as possible.
My experiences with the providers VisualVest and Growney kannst du ebenfalls nachlesen. Da Growney für die ersten 10.000 Euro Anlagevermögen keine Gebühren verlangt und dir zum Start sogar noch 50 Euro schenkt, gibt es mit dem Coronacrash jetzt keinen Grund mehr den Vermögensaufbau zur Altersvorsorge, Absicherung,…oder was auch immer deine persönlichen Ziele sein mögen nun in die Hand zu nehmen. Klicke auf die Banner, um mehr zu den Anbietern zu erfahren.